Trends, tools and tips on tap at the Hospitality New Zealand annual conference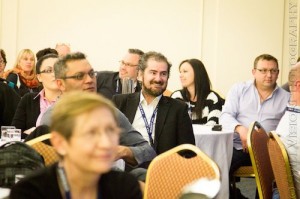 Getting customers through your door – and back again – is the ultimate challenge for hospitality operators, and at this year's annual conference and awards announcements, the Hospitality New Zealand Showcase brings together expert insights to help hospitality operators do just that.
'The Customer is King' is the theme of this year's Hospitality New Zealand Showcase, being held in Rotorua on September 17 and 18.
"We understand it's a big deal for operators to take time out of their business, so we've made sure the line-up is well worth the time away," says Hospitality New Zealand chief executive Bruce Robertson.
"We've got two days jam-packed with insights, ideas and information to help hospitality operators make their customers happy and get them coming back for more."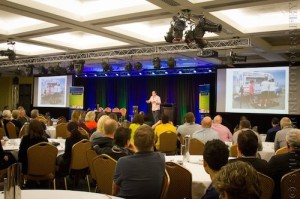 The line-up includes Michelin star chef and MasterChef NZ judge Josh Emett, looking at what's fresh on the menu, Gen Y Entrepreneur Jack Delosa sharing his expertise on 'Reaching the new consumer' and BERL'S chief economist Dr Ganesh Nana asking 'What do our future customers look like, and where are we going to find our workers?"
"There's also plenty of opportunity to catch up with fellow hospitality friends, which is a great way to get a feel for what's happening out there," Robertson says. "It's also a good chance to learn how others are dealing with issues you may be grappling with, and there's fun to be had at the social events as well."
Registrations are open to anyone – members and non-members. For more details and to register online visit www.hospitalitynz.org.nz, call 0800 500 503 or email nsc@hospitalitynz.org.nz
Hospitality Showcase 2014
Rotorua
17 and 18 September 
Hospitality New Zealand Annual Conference
Theme: The Customer is King
Venue:  Rotorua Energy Events Centre
Master of Ceremonies: Greg Ward
Wednesday 17 September 2014
Venue: Bay Trust Forum (unless stated otherwise)
9.30am
Branch President's Forum (Branch President's only)
First Sovereign Trust Room
11.00am
Registration Opens
11.30am
Welcome Bay of Plenty Branch President
Welcome from Deputy Mayor of Rotorua, Dave Donaldson
11.45am
Reaching the New Consumer – Why consumers are behaving differently and what you need to do to reach them
Jack Delosa, , a self-made millionaire and one of Australia's top 10 leading entrepreneurs under 30
12.45pm
Hospitality Industry – The future: A Panel of Industry Experts
Chair: Adam Cunningham
 – John Hellebrekers, Barworks
– Anton Haagh, Duke of Marlborough Hotel
– (tbc)
1.15pm
Lunch
2.15pm
Concurrent forums:
One in Bay Trust Forum, one in Skellerup Room
The Chinese Market – Panel
The Data – Deborah Gray, General Manager Corporate Affairs, Tourism NZ
Meeting the needs of the Chinese Tourist – Amy Adams
Government's Perspective – Todd McClay, Associate Minister of Tourism
Discussion

Gaming Forum – Panel
Gaming Reform – DIA Representative
Racing Reform – Bruce Proudfoot – TAB
Operators' Perspective – Josh White/Jeremy Smith
Discussion
3.30pm
Afternoon Tea
4.00pm
Sale and Supply of Alcohol Act – Is it working?
TBA
4.40pm
Keynote
Andy Routley, Managing Director, DB
5.00pm
Board Candidate's Speeches (if required)
5.15pm
Approximate Close
6.15pm
DB Rotorua Experience
TBA
Thursday 18 September 2014
Venue: Bay Trust Forum (unless stated otherwise)
9.00am
What do our future customers look like?
Where are we going to find our workers?
Dr Ganesh Nana, Chief Economist, BERL
9.40am
What's fresh on the menu
Josh Emett – Chef
10.40am
Morning Tea
11.00am
Punting on the election result
Colin James – Political Commentator
12.00pm
Keynote – The Customer is King
Dick Brunton – Colmar Brunton
12.45pm
Keynote
Rory Glass, Managing Director, Lion
1.15pm
Transfers to lunch
1.30pm
SKY Networking Lunch
Speaker:  TBA
Venue: The Blue Baths
3.00pm
President's Address and 112th Hospitality New Zealand Annual General Meeting –                                                Members Only
Venue: The Blue Baths
4.30pm
Approximate close
7.00pm
IGT Cocktails
Lion Awards for Excellence Black Tie Dinner
Venue: Bay Trust Forum
MC – Michele A'Court
Entertainment – Count Me In
Future Leaders Day – Rotorua
Tuesday 16 September 2014
Bay Trust Forum, Energy Events Centre Rotorua
MC – Adam Cunningham
11.00am
Welcome
11.05am
Keynote – The Secret of Success
Luke Dallow – Chapel Bar & Bistro
11.25am
Keynote – Why choose hospitality?
Vincent Lombino – Group Director of Food & Beverage for the Urban Purveyor group
12.00pm
Technology in Hospitality
TBC
12.30pm
Lunch
1.15pm
Training snippets
David Rigg, Artisan
2.45pm
Afternoon Tea
3.00pm
Managing a Kitchen
Anita Sarginson – President, NZ Chefs Association
3.30pm
Young Guns
Adam Neal – Racket and Orleans Bar, Beam Bar Legend 2013
Sam Cunningham – Blankenberge Belgian Beer Café – Stella Artois Draught Master/Hospitality NZ                                     Future Leader Scholarship Recipient
Jiemin Aw and Sarah Harrap – Bronze Medal winners 2014 WACS Global Pastry Chef Competition
4.30pm
Talent is Overrated – The 7 Unconventional Principles for Achieving Career Success
Jack Delosa
5.30pm
Close and Drinks – Hennessy's
.