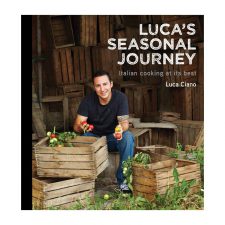 Exploring the seasonal delights of the different regions, each with their own culinary specialties is what Italian cuisine is all about. International chef, Luca Ciano, shows how to transform the best seasonal produce to create his signature Italian dishes that indulge the senses and will leave your mouth watering!
This beautiful hard back book is packed with delicious and enticing Italian recipes such as beetroot and gorgonzola risotto, gnocchi with porcini mushrooms, shrimp and basil pesto and summer millefoglie, all accompanied with stunning pictures of each dish.
Luca show's how to use the produce available in summer, autumn, winter and spring to create a variety of different dishes perfectly suited to the season. This recipe collection will bring a fresh excitement to your cooking and is a must-have for those who enjoy cooking or have a soft spot for Italian cuisine. Buon appetito!