A sea mist had rolled in and was hanging about. Hah, no I'm not starting to think I'm a novelist. It actually does get pretty misty in these parts as anyone who watches a bit of golf knows. After half a cup of the American staple drip coffee while sitting on the front verandah of our B&B (other guests had arrived on mass filling the breakfast room and the poor chef was looking and feeling harangued), we decided to hit the road in search of a better brew and alternate breakfast venue. We were realistic about our chances. BUT we also sensed we'd likely have more luck a few more miles down the coast at Big Sur and in the meantime the scenery more than compensated.
We took 17 Mile Drive around the Carmel coast. If you ever have the chance, do it. It is stunning. I'm not going to wax lyrical again about scenery because you are more interested in food, but just to say the coastal scenery and architecture here is incredible. If you are a golfer you are in heaven, or purgatory as like us you don't have time or enough room on your credit card… But perhaps they knew how to make a decent coffee in the Carmel Resort Lodge with its views onto the 18th and out to the bay. As we parked the Spark a kindly gentleman giving someone else a parking ticket suggested just this and gave us a ride on the back of his golf buggy the 100 metres or so to the golf club. He obviously hadn't come across Kiwis before and didn't realise we could manage that distance on our own.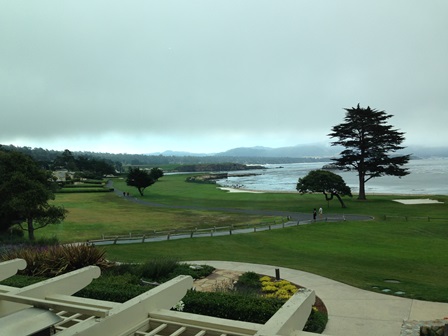 Completely taken in by the surroundings we decided to order breakfast, it being surprisingly reasonable priced. Pretty standard and crap coffee, but the view was worth it. It was also an interesting contrast in terms of service. The service staff are of course very polite but have that jaded kind of faultless hospitality manner of just 'going through the paces.' Such a contrast to what we had been encountering. I couldn't but smile as one waiter kept repeating the same question just more slowly to some Asian guests. I really didn't think asking them how they liked their eggs, 'sunny side up' or 'over easy' was going to work….
17 Mile Drive takes one into Carmel by the Sea. And then you take the 'Scenic Drive' around the bay past some of the most inventive residential architecture I have ever seen. Not the mansions on the golf course, rather smaller and all crammed in together. But this is where you can get a designer wiggly wonky saggy slate roof put on and fit right in with your neighbours. I expected Bilbo Baggins to step out any second.
Coffee was calling, so down the coast to Big Sur. Stunning scenery. We stopped at the Big Sur Bakery/Café/Restaurant, yes they do it all, and had stupendous coffee and luscious pastries. Enough to set us up for the rather tricky bit of road ahead.
On this part of the coast, the 98 odd miles from Carmel to Moro Bay when it says 25 or 30 miles an hour, they really do mean it. Take time, as once you get to Moro it all becomes a lot more straightforward. Many people choose to do the drive from south to north so they are hugging the inside lane. We of course were going south.
But for all 'her' seat grabbing a spectacular coastline. A highlight was the chance to watch sea elephants sunbathing en mass a few metres away from the safety of a boardwalk. As we watched intermittent lumbering movements, blubber rippling, we hoped this was not the impression people would have of us upon our return home in a few days after almost three weeks of solid food research.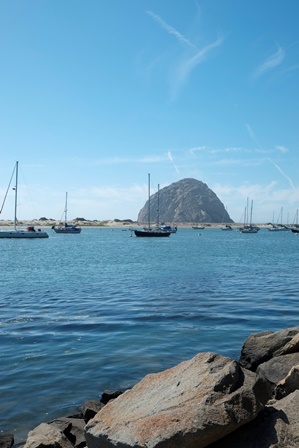 After checking out the vibrant waterfront at Moro Bay the road goes inland and one gains a partial experience of the intensive single-crop farming that the chefs we'd been encountering were rebelling against. We'd seen a bit of this between Santa Cruz and Monterey as well. I cannot fathom what on earth they were going to do with all those artichokes. Artichokes as far as the eye could see.
We had planned on stopping for some dinner in Santa Monica so as only to be venturing into the heart of LA to find our apartment in the historical downtown area after the worst of the traffic. But as it happened with all the scenery along the way we were only going to arrive around 9.30pm anyway, a total 13 hour trip. So we pressed on. Perhaps the waist circumferences of sea elephants were also too fresh a memory.