The Tour de France is 21 days long including rest days. We've been going 19 days, no rest days. It's pretty hard work doing that amount of practical food research. What? Not even a smidgeon of sympathy? I wouldn't have either, it's been an absolutely amazing non-stop ride.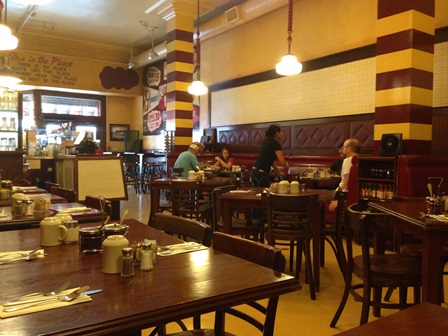 But it's not over quite yet. One last breakfast. Spring for Coffee first port of call, the same dog owners as yesterday already there having their coffees in the few chairs outside the tiny espresso bar. Lots of dogs around these parts. Not sure I quite agree with dogs in city apartment environments, but Californians seem to be about as potty about dogs as Parisians. There was even a free leaflet beside the coffee machine containing a map marked with all the pet friendly outlets in the neighbourhood. Ha, we feel like regulars already, the baristas immediately recognising these caffeine addicted Kiwis and preferred brews underway.
Round the corner to The Nickel Diner. It had been closed yesterday. Another of the local foraging destinations recommended by our Air BnB host. The usual complaint. So many choices. She ordered a blueberry pancake, from past experience, having established that it was a stack of three, asked for just one please, but lots of blueberry compote. Wise decision, pan sized and half an inch thick of fluffiness. Hot compote, topped off by the house made strawberry preserve provided on each table. I restrained myself to a sensibly sized scramble with chicken apple sausages. Sensible only because I'd spotted the donut selection. How could I go past the 'Car bomb'? A beer based dough, filled with whiskey diplomat cream and sprinkled with cinnamon sugar. Size = tea saucer. Flavour and texture = outstanding.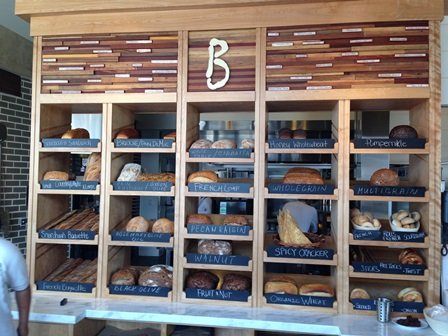 Back to pack and load the car. Final few hours itinerary taking us onto the 'other side of the tracks'. Beverly Hills. The architecture in this part of LA is significantly different. The windows of Chevy Spark were not big enough to take in the entirety of some of the mansions passed. First stop another historical 'monument' in the Californian culinary scene. Nancy Silverton's La Brea Bakery. This being to artisan bread renaissance what Chez Panisse was to Californian cuisine. The lunch option looked good but that donut was not so long ago. Settled for a rosemary scone to taste and just the visual food porn provided by the fresh salad bar, bread and pastries. Next time.
A few more mansions and glimpse of the Hollywood sign on the hills in the distance and that's as close to the celebrity tourist trail we got. I take my food research responsibilities seriously. LA Farmers market is a fun place to visit. Finally found a real malt shake. It was after all a rather warm day so a cool malt was just the ticket. Thick. Just the way it should be. The market was established 1934 and people were lined up to receive a free piece of cream cake sliced off several metre square slabs. Around the market has been created a very attractive shopping precinct. This could be a very dangerous place to visit if one's bags were not already overfull with cookbooks and Lodge cast iron pans…
Running out of time (driving times in LA are significant) we decided to forgo a visit to Lindy and Grundy the gourmet butchery recommended a visit by industry folk along the way. Next time. Time to get a bit closer to the airport and to try to find one of the top recommended food trucks in LA, The Border Grill. They show up at different locations around the city. Apparently the best way to follow them is via Twitter. I'm not a tweeter so had checked the website. They were going to be at a specific address between 12 and 2pm. We had 30 minutes to get there. Took 32. No truck in sight. I guess food truck stalking takes practice.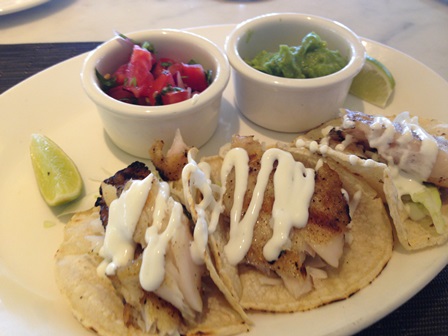 We back tracked a bit and found a parking spot just off Venice beach. All sorts of activities going on. If it weren't for that malt shake I'm sure I could have shown the chaps on those gym rings how it was done…Instead we opted on a wine with a beach view in the cool looking restaurant in Shutters hotel. And a little look at the menu….the very last meal of the trip…Carrying on the theme from last night I went for the fish tacos. She the gazpacho and a copy of the Shutters cook book. Would it tip the balance on our luggage weigh in?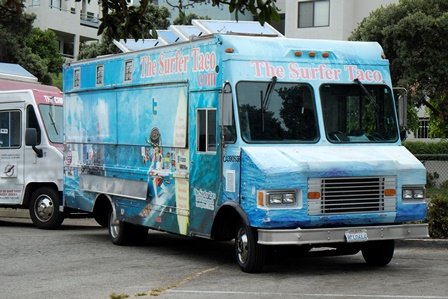 The friendly barman gave us some tips on the hippest place to eat in Venice and the location just a few blocks down for the food truck park up. There is a lot going on on Main St Venice Beach these days apparently. Next trip we'll base ourselves here beside the beach. Lots to see, a more refreshing place to return to than the inner city after a day of research and a good point from which to make forays into different parts of LA.
We found the food trucks setting up just after 4pm. Due to open at 5pm. We hung around a while but noticed the traffic starting to build up. Time to get ourselves to the Alamo drop off point and wish farewell our trusty Chevy Spark. So photos and a chat with a couple of food truck chefs was as close as I got to this side of things. Next time….One needs more time in LA to get stuff done compared to other places….it takes time to get around. But don't worry I got the info on the 10 best to visit from an insider. I share these at the end with you.
46.4kg combined luggage. We'd left NZ with 23. Oops! My bag failed the security x-ray scan test. The amount of metal involved in the Lodge pans had caused a bit of a disturbance. At the gate we were called up to the desk. Maybe we've got an upgrade…"Are either of you allergic to pets?"
What? A final new experience to end a most memorable trip. I've never sat beside a dog on a plane before.
So the low down on the places we didn't get to in LA:
Gjelina (the hip place in Venice)
A carpark off Main St and Ocean Park Blvd is where Food Trucks congregate in Venice
If you don't find The Border Grill food truck the restaurant is in central downtown, for 'modern' Mexican
And here is the word on the food truck scene from a local a food truck chef himself:
You should definitely visit Santa Monica beach and the pier… Amazing food over in that area and LOTS of food trucks during the week from 11a-2p. A good way to follow food trucks and see where they're going to be is through twitter…. Some of the MAJOR food trucks you MUST visit:
1. The Kogi truck by Roy Choi- The FIRST food truck that ever started in LA. Roy Choi started the food truck movement here and his truck is THE BEST IN LA!
2. The Jogasaki truck-sushi burritos. Amazing.
3. Seoul Sausage Truck- Season 3 winners of The Great Food Truck Race. Korean flavours, sausages and other yummy food.
4. Grill Em' All Truck- Specialty Burgers. Super delicious!! Season 2 winners of The Great Food Truck Race.
5. The Lime Truck- healthy California flavours.
6. Coolhaus-homemade Ice cream sandwiches
7. The Grilled Cheese Truck
8. Border Grill Truck- Mexican flavours
9. The Buttermilk TruckAll of these trucks can be found on twitter and a few have their own websites as well! These are THE BEST and MUST TRIES!
And I realise I forgot to give you the info on some of the places we were recommended but ran out of meals or time for in San Francisco:
And the coffee roaster/cafes to check out for a fine brew:
So there you have it. All my tour secrets, well almost. Tomorrow a wrap up. But first I need to unpack!