Monday morning, last morning in Vancouver, what could we do but return to Medina. Three tables left when we arrived at 8.35am. Coffee and waffles while we wait for the kitchen to gear up. Seem to be even better than last time, best have another just to check…Breakfast orders taken at 8.55am, Cassoulet please, eggs sunny side up, already a waiting list of 5 parties and more arriving to join the queue outside. At least it is a glorious morning for it.
Bags packed and stored, off to visit the privately run Pacific Institute of Culinary Arts on the water front beside Granville Island. Two 6 month intakes of 2 classes of 15 students per year in Culinary and the same for Patisserie. Or a 1-year programme combining the two. 90% practical learning. 8 kitchens. Two streams, 7 hours per day, first three months learning the fundamentals, last three months in production supplying a working patisserie and bistro. And all with a water view!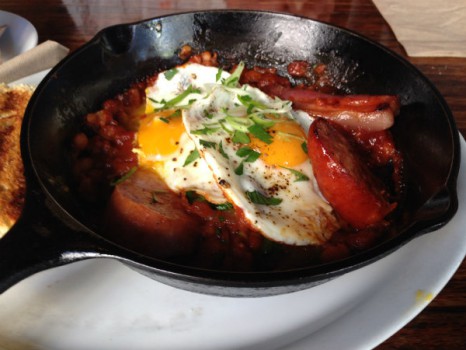 Apparently the Canadian hospitality industry faces the same personnel shortage we do. Oh to be starting out again so I could apply for that job at L'abattoir.
A wander back across the Granville Rd Bridge, wonderfully scenic, for a final Canadian lunch at Fable, another farm to table focused food haven. The pasta machine churning it out frantically to keep up with demand, delightfully refreshing salads and wholesome takes on burgers and toasted sandwiches. A short menu yet spoilt for choice. The chocolate pannacotta in a jar hit the spot but maybe they should have used the same container for the lemon meringue parfait as the tall narrow Sundae glass obstructed one's ability to combine the divine flavour of the tarragon ice cream with the lemon below. A tweek or two and I envisage another dessert for a future menu…..
An hour left to wander back over the bridge and a quick recce of Yaletown…The old warehouse district revitalised into a terrace bar, restaurant and shopping precinct. More for the younger set. We felt a couple of decades out of place. On past the sports arenas for a final walk along the seawall to the train station. Good to see folk out walking, cycling, running, rollerblading. Unfortunately my running shoes appear to have lost themselves somewhere in my luggage…
Note to self: next time come back for a week:
hire bikes to cycle the entire seawall (aside from the scenic value it'll justify scheduling more meals)
Take a one hour bus ride up the valley to Squamish for a day, home of maple syrup and outdoor adventures
Take a seaplane trip out to Vancouver Island for an overnight stay, ferry back
Get to all the restaurants we didn't have meals enough for this time:
Oh and visit Medina's new location to make sure the quality of the waffles hasn't suffered from the move….