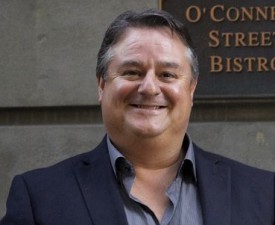 Located on the corner of Shortland and O'Connell Streets in central Auckland, O'Connell Street Bistro is most definitely one of the industry's success stories. There's the intimate dining room of 14 tables with a cosy, well-stocked bar and a menu that never fails to please. It's also a favourite with the legal fraternity in the area and regulars from out of town who travel just to dine there. Its magnificence has often been acknowledged with awards, the latest being Best Wine Experience at the recent Cuisine Good Food Awards.
The Bistro's UK-born proprietor, Chris Upton, is a true ambassador for the hospo community, and with the Bistro now moving into its 18th year, he's still as passionate about the scene as he was when he first opened its door. Head chef Alex Strobach was born in Germany and joined the team in 2012, and the venue's going from strength to strength.  Hospitality Business paid a visit to find out more, and to talk about those roadworks!
There's orange tape, diggers and witches' hats outside. What's going on?O'Connell Street is being transformed into a shared space with no parking but access for pedestrians and cars. The work will be completed by August and our patrons will then be dining alfresco as well as inside. Trees are being planted, tables will be placed beneath and retractable heaters and awnings are being installed.
What other changes will there be?
We'll open from nine and be more of a European piazza-style bistro with espresso and pastries in the morning. You won't come to O'Connell Street Bistro for bacon and eggs but you will find lemon curd and chocolate brioche made in-house, Monday to Friday. We will also be opening up for lunch and staying open all afternoon, so people can pop in for a glass of wine and a bite to eat or stay for dinner. It's pretty exciting that for the first time in 18 years we get to feed people outside!
How will this change the clientele?
I think it will attract a whole new clientele; people who want to drop in for a wine and a snack and sit outside, enjoying the longer summers that we seem to be having. I think the existing clientele will love that as well. We've been canvassing people who have dined with us over the past few months about what they prefer – dining outside or inside – and it has been 50/50. Some regulars say they'll continue to dine inside as they love that about O'Connell Street, and others might start inside for lunch but love the idea of continuing on into the afternoon outside.
Will you change the menu structure?
We will add different things for different times of the day and there might be some dishes at lunch that will lighten themselves up a bit. I very much want the focus at dinner to stay inside though, as we can control the ambience 100 per cent.
What has been the menu shift this winter?
Alex has been getting right into using the sous vide where and when he can, but we've still got a nod to warmer climates with an octopus Carpaccio. Favourites like the rabbit papardelle really come into their own at this time of year, and we have skate in red wine sauce. We're all loving the cavalo nero and kale, all of the robust brassicas that winter is all about. I love winter because there are so many heart flavours to choose from that you don't need to overwork or confuse on the plate.