Masako Yamamoto was crowned the Restaurant Association's Barista Smackdown winner for 2014.
Masako, who works at Atomic Café in Kingsland, Auckland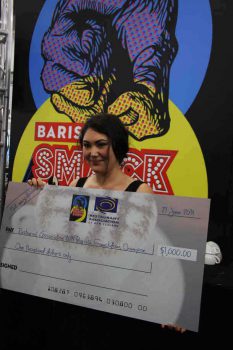 took home $1000 cash and $1000 worth of coffee equipment from Tiger Coffee for the business. Masako was a graceful winner who thanked her fellow finalists and said she would be taking the team from Atomic out for dinner with her winnings.
Andrew Felton from Hawthorne Café in the Hawkes Bay was one of three finalists and battled his way through eight rounds to make the top three in the competition which was held at Fine Food New Zealand in Auckland last month. Wayner Moreno also from Atomic was part of the elite three.
Head Judge Janine Quaid said the standards were extremely high and the competitors all so passionate about their work.
The Barista Smackdown was organised by the Restaurant Association. "With this event, we wanted to highlight our industry's talent," says CEO Marisa Bidois.
"The industry is facing severe skills shortages and we like to take the opportunity to celebrate those that have embraced our industry and hopefully inspire more to choose hospitality as a career option. Finding key staff was listed as number three on the top challenges of Hospitality Business owners in the Association's recent Hospitality Report," says Bidois.
Check out the Association's Facebook page for more photos and updates on the National Culinary Fare coming up in August. www.restaurantnz.co.nz
This event was sponsored by Tiger Coffee, Meadow Fresh and Incafe.