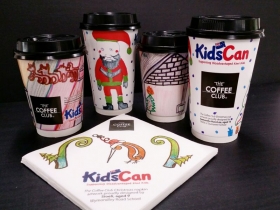 Up until Christmas, The Coffee Club customers will be able to enjoy takeaway drinks and food in Christmas themed takeaway cups and napkins designed by schoolchildren as part of a nationwide KidsCan art competition. The Coffee Club has worked with KidsCan, a not-for-profit organisation that supports underprivileged New Zealand children, since 2009.
"We are proud to support such a deserving cause," says Andy Lucas, The Coffee Club Marketing Manager and Co-Director. "It was heart-touching to see how excited the kids were to create their own special pieces of festive artwork. Our customers have also responded with lots of enthusiasm and are loving the Christmas spirit the new cup and napkin designs are bringing to our stores."
Ten-year-old Samantha from TKKM o Taumarere School won the competition, which attracted over 100 entries. Her design features on the large takeaway cup. Second place was won by Angelisa (age 10) of Ramanui School in Taranaki, whose design is on the medium takeaway cup and third place went to Sioeli (age 9) of Wymondley Road School in Otara, Auckland whose design is featured on the Christmas napkins. The schools were given $2,500, $1,500 and $1,000 respectively from The Coffee Club New Zealand and the children received $150 worth of vouchers as their prize.
The Christmas takeaway cups and napkins are available from The Coffee Club stores across the country throughout November and December. For more information on KidsCan, including information on how you can get involved either as in individual or business, please visit www.kidscan.org.nz. For more information on The Coffee Club New Zealand please visit www.thecoffeeclub.co.nz.