A fine night's sleep. A combination of the cool, spacious, delightfully furnished Air BnB apartment we'd booked and exhaustion of a long drive ended with the excitement of playing dodgems on the freeway coming in from Santa Monica. Thank goodness 'she' was too busy figuring out the easiest route on the iPhone to pay much attention. I felt like I'd entered Stars Wars at the point Luke and his mates are attempting to destroy the Death Star. I'm sure he slept well after that too.
Historical Downtown LA is an area undergoing revitalisation. Eclectic is the least one could say. Our high ceilinged studio apartment was on the 11th floor of an old banking building, all narrow white marble corridors looking down onto a central atrium. Location well-appointed from a food foraging perspective, our host providing us a list of suitable locations. Before further descriptions of Historic Downtown, let's get priorities sorted. First, you guessed it, coffee. Just round the corner on Spring St is a tiny espresso bar Spring for Coffee. Ignore all previous claims to the best coffee so far in America. These guys specialise in filter to order, pour-overs and the barista style stuff we prefer. As usually the case flat white is not on the menu, but just ask for a cappuccino, tis pretty much the same thing.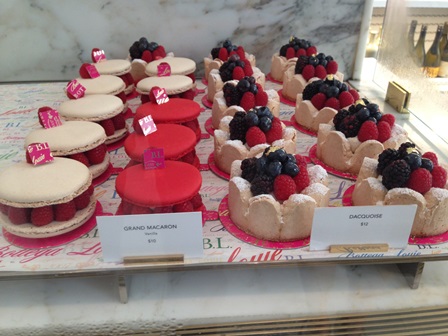 Suitably oiled, next stop a block down and a few over to Bottega Louie. Memories of old style Parisian or Italian cafes cum patisseries. I really needed a week of breakfasts to be able to try everything I wanted to, but I settled for the buratta on hash with maple turkey sausages on the side. And apple juice. "Its green apple, is that OK sir?" Arrived a glass of frothy freshly juiced organic apple. After breakfast we checked out the patisseries and resisted temptation until we spotted the almost black canalé. I really want to come back tomorrow, but I have a responsibility in the name of research…. Back to the haven of our air cond apartment via a minimal detour for another coffee to catch up on some work.
A few hours later we ventured out again. Yep, it's not just a morning thing. Stepping out in historical downtown is an experience of humanity to say the least. A few years ago one wouldn't have ventured into the area. Perhaps it provides a visual essay on the American dream. It's hard to explain, but let's just say we felt quite safe, but we also felt quite sane and happy to only be visiting.
On to the Grand Central market with a stop en route at the most interesting book store I have ever encountered. The Last Bookstore is worth checking out. Unfortunately we couldn't, but one could spend a whole lot of time here.
Grand Central Market reflects the area well. We'd been told to share a tacos at Tacos Tumbras a Tomas. It did look good but as a dinner date was by now only a couple of hours away we resisted and settled for a cool drink from the Better Booch Kombucha bar instead. This is good stuff, and I have just found a New Zealand supplier, so am going to have to check it out.
Originally we were going to finish our West Coast culinary tour in SFO. But a new industry friend based in LA mentioned Latin and Mexican and that was that, we are here. We met our friends for pre-dinner drinks and snacks at Rivera Restaurant. The street grid system makes finding one's way around a city like LA fairly straightforward (as long as one stays off the freeways as much as possible). Especially when walking, except as in this case when they slip a few named streets in between numbered streets, so the 3 blocks over and 5 down turned into a few more blocks than timed for. Oops! A couple of cocktails and some delicious snack tacos later we were off to a secret location for dinner. Before I reveal the secret location, a word on cocktails. They are quite the thing in Canada and the US and we have developed quite a taste for them. Like the cuisine we'd been coming across, quite a revitalisation, full of interesting and refreshing combinations.
I am sorry but I have no idea of where we were or how we got there as that job for a change was given to Sadie our friends' GPS (she is Australian). So the location remains a secret to me, but if in LA you must BOOK and go to Pettycash for some 'semi-authentic Mexican'. Before I finish the day at Pettycash a word about being a pedestrian in the US. Highlighted by our drive with Sadie. At one particularly large intersection all 20 lanes of traffic had come to a standstill. An elderly lady on a walking frame had got a wee bit confused and started walking out on the wrong light. Everything just stopped and a couple of chaps had got out their cars and were helping her across. In the US as soon as you even look as though you might be going to step out onto the road traffic will stop. So use the crossings. Don't J-walk, its immensely embarrassing! Even if a car is far enough away that you can get a across without it slowing down, it'll still stop! I imagine Americans get a bit of a shock when they try to cross the road in NZ.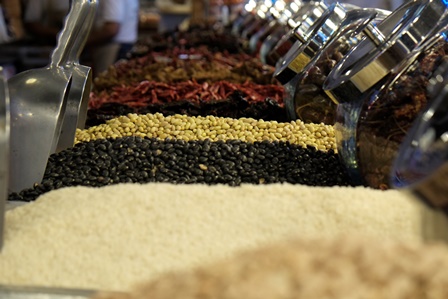 Back to Pettycash. More tasty cocktails. Why not, last night and all. They call themselves a 'semi-authentic Tacqueria', that's not my evaluation. But they have authentic Mexican ladies making authentic tacos the traditional way. It's just the stuff they put in them that's a bit different and inventive. The place was pumping. Apparently it used to be a very good Spanish tapas restaurant, but never really very busy. The current owners have apparently got things right for the market. The good thing about doubling the dining numbers (4 instead of 2) is that you can taste more. Roasted cauliflower nachos with crispy kale, Black bean crema to die for (she said as she wouldn't share more than a spoonful), crispy brussel sprouts with morita-cauliflower crema, a couple of ceviche, the best the Ceviche Negro (see photo for description), and a selection of tacos: charcoal grilled octopus (the best we decided), Al pastor adobe (chile rubbed pork shoulder with pineapple and avo), Cook's ranch pork belly carnitas, and finally, what the hell, shrimp and cricket taco adobo with black beans. Crickets do get a bit scratchy as they go down, must be those little legs.
The churros shared for dessert didn't last long.