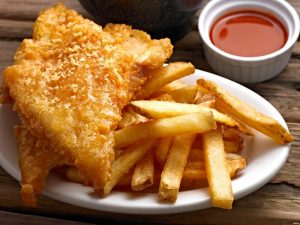 In an age where consumers say they are increasingly health aware, New Zealanders still regularly indulge in fast food. Research from Nielsen's Consumer and Media Insights (CMI) survey reveals that in the past month, as many as 80% of New Zealanders ate fast food and more than a quarter (27%) ate fast food more than five times. Fish and Chips continues to be our fast food favourite, with 1.7 million Kiwis eating it in the last month – an increase of 11% over two years.
McDonald's is the closest contender for the top spot. In two years, the fast food giant spent $51 million in advertising which contributed to a 6% increase in its consumer base. In Auckland, McDonald's is the most popular take away, with 40% of consumers visiting the Golden Arches in the last month. KFC is the third most popular takeaway. KFC spent $51 million on advertising in the last two years, 85% of which was in television, leading to a healthy 13% increase in the number of consumers buying.
Domino's wins on growth. The number of people who have bought or eaten Domino's in the last month has jumped by 39% compared to 2014. This is largely due to an increase in the number of teen customers, perhaps due to their new value positioning.
Another big winner is Sushi. Now well established in New Zealand, the number of people that have bought or eaten sushi in the last month has jumped by 27% compared to 2014. Sushi is keeping up with all of the current fast food trends; it's perceived as healthy, good value and caters to our growing love of new flavours and cuisines. This has seen it in good stead with the likes of Pita Pit, Indian and Thai in the front runners for growth.
Millennials are the driving force behind the New Zealand fast food industry. Nine in 10 Millennials have eaten fast food in the last month – up from 81% two years ago. As a consumer group, Millennials collectively spend $33 million on restaurant meals every month; and there has been a significant increase in the number who say they eat on the run and often buy takeaway food to eat at home.
This is similar to trends being seen for the wider population. The number of people who often buy takeaway food to eat at home has increased by half in the past two years, as has the number of people who call themselves food connoisseurs. There are more people eating on the run, trying new food, wanting new recipes and wanting to make cooking easier. There are also more people watching their weight.
Findings from Nielsen's Global Health and Ingredient Sentiment Survey shows that six in 10 Kiwis actively avoid animal foods that contain antibiotics or hormones; and more than half avoid food that contain MSG, artificial preservatives, flavours, colours and sweeteners. Foods that are high in sugar and sodium and those that are genetically Modified (GM) also feature in the top 10 ingredients that New Zealand consumers avoid.
All of these trends highlight the need for fast food establishments to evolve their offering to align with the changing needs of consumers. Busy consumers want the speed of fast food establishments, but they also want fresher, more healthful options.
As consumers demand more transparency about the foods they eat, fast food outlets may need to provide nutritional information for prepared foods to "help consumers to make more healthful and better informed choices," reports Nielsen.