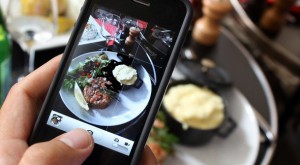 Customers' amateur shots of meals at restaurants and cafes could be providing New Zealand establishments with positive free publicity, according to a local PR expert.
The increasing popularity of 'food selfies' being posted on social media sites such as Facebook and Instagram has been publicly put down by some international chefs, but Impact PR director Fleur Revell says the trend is more likely to help business than hinder it.
"Social media is playing an increasing role in the promotion of restaurants, especially when shared amongst peers who are more likely to know your tastes and needs when it comes to dining out," explains Revell.
Despite it becoming something of a social etiquette issue of late, Revell says eateries should take a positive view of customers photographing their dish before they tuck in. "Personal snaps of a dish or a group of friends toasting a meal together posted on social media bring to life the meal and the conversation," she says. "Not only does the food usually look good, but that restaurant takes on a personal story for us before we've even got there."
With people usually taking care to set up food shots that look mouthwateringly delicious to celebrate a special meal, or show friends they are at the new hot dining spot, Revell says they are often providing free advertising of restaurants that may be trusted more than traditional forums.
"There's an honesty in what has been photographed by your friends, who are in essence sharing their meal with you," she explains. "It's a snapshot of what landed on their plate at that time – there's been no styling beyond the chef in the kitchen, and no tricks of light or photoshop beyond the occasional Instagram filter to make the meal seem more than it is, so people know it's the real deal."
Top Kiwi chefs Simon Wright and Josh Emett told the NZ Herald last year they didn't mind the trend, although Emett and Auckland chef Sean Connolly did express concerns the phone-snapped images didn't always do food justice.
However, Revell says many people take a lot of care to set up photos and present food in the best possible light or filter these days, and regardless of the image quality, it may reach a group of people that didn't previously know about a restaurant or consider it a 'must-go'.
The same goes for impromptu reviews that may accompany photos or appear after someone has dined out. "People often trust a friend or family member's opinion far more than that of a reviewer or anonymous post on a review site," explains Revell. "While a restaurant critique by a seasoned reviewer may provide a certain amount of expertise on the quality of the cuisine, what it lacks is how you personally may respond to the food or service."
Revell, who offers social media tips and advice for businesses on the Impact PR website (http://www.impactpr.co.nz), also believes the ever-growing trend of amateur food and health bloggers is another factor in viral social media restaurant promotion that Kiwi establishments need to take into account.
"Followers look to favourite bloggers as a source of inspiration when it comes to not only selecting where to eat, but what to eat at any given restaurant," she says. "When they post a review, people tend to believe it as they have often decided their tastes and likes are similar to the blogger based on their other content."
Ultimately, Revell says, the positive impact of social media on restaurant promotion shouldn't be overlooked. "If food is such a social experience, one where we usually join together with great friends and family, then surely social media becomes the perfect platform to also share those experiences with a wider group of friends – and that may result in a few more people heading out for a meal together."