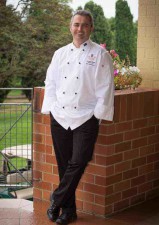 The full contingent of judges for this year's Nestlé Toque d'Or competition have been revealed, with some international names and leading New Zealand chefs included in the line-up.
Organisers of this year's event have secured the involvement of high profile culinary figure Simon Gault, Australian Culinary Federation President Neil Abrahams (above) and WorldChefs Culinary Committee member Gary Farrell.
NZChefs National President and event organiser, Graham Hawkes, said it was 'no surprise' that Nestlé Toque d'Or had attracted such an impressive line-up of top names and industry professionals, given that the event was celebrating a 25 year milestone birthday.
"It's New Zealand's top student culinary competition where only the very best trainees from institutes around the country get to demonstrate their cooking and restaurant service skills in a live kitchen cook off," Graham said.
"The top title is hotly contended and only one team can take out top honours on the day. It's pressure-cooker stuff where competitors have to be in top form on the day while their work is closely scrutinised and marked by a team of high ranking judges."
New to this year's judging panel are: Simon Gault, Gary Farrell, Graham Brown, Neil Abrahams and Murray Dick. Respected Australian imports for the high profile event Farrell and Abrahams are prominent businessmen within the Australian hospitality industry. Gary is a member of the internationally respected WorldChefs organisation and currently sits on the Culinary Committee for the Pacific Rim. Neil is President of the Australian Culinary Federation and has notched up a long list of achievements including international gold medals and top awards for his culinary skills.
Also making a welcome return to the competition floor this year are: Jeremy Schmid; Mark Sycamore; Nancye Pirini; Richard Hingston; Janine Quaid; John Snowball; and Kerry Tyack.
Leading the team of judges is high profile Christchurch-based chef and leading culinary figure Darren Wright. This is the second time that he has picked up the role of Chief Judge.
Graham said collectively, this year's judges bring an unrivalled wealth of experience in the hospitality industry gained both locally and internationally.
"They will bring a depth and level of experience to the judging process that will not only help to determine this year's winning team but provide valuable input and feedback to the competing students.  To have secured their involvement demonstrates how important this event is and how committed they are to supporting the next generation of culinary stars."
The 25th Nestlé Toque d'Or will be held on 30 July 2015 at the Auckland Showgrounds. An awards dinner will be held later in the evening where the winning team will be announced.