New Zealand's best chefs have secured their bragging rights at the 2014  NZCA Gourmet Pacific Challenge – claiming a trifecta over their Aussie rivals.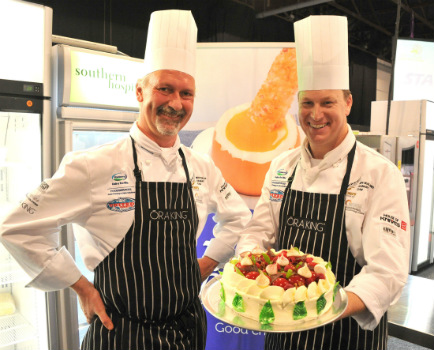 The Kiwi culinary team were the team to beat and didn't disappoint, taking the honours at last night's prize giving and successfully defending their title to claim a trifecta over their Australian rivals.
The Gourmet Pacific Challenge pitted the best New Zealand and Australian youth (25 and under) and senior (over 25) chefs against each other in an effort to impress the internationally recognised judges. Their entries were judged on up to seven courses per country served up to guests at Fine Food New Zealand from 22-24 June.
The winning senior New Zealand team cooked their way into the history books in the 'Moffat Culinary Challenge Kitchen' serving an entrée comprised of pastilla of red wine braised venison, chocolate and chilli, feta cheese, beetroot, cocoa nibs and fennel. The main course of prawn and chicken sausage, hangi potato, spiced carrot puree, sautéed cabbage, brocolini, baby carrot, chicken and thyme jus was a triumph. For the dessert, the Kiwis presented rhubarb jelly, ginger yoghurt sorbet, pistachio anglaise, poached rhubarb and pear with traditional New Zealand hokey pokey.
The senior Kiwi team included Steve Le Corre (Timaru), Darren Wright (Christchurch), Richard Hingston (Christchurch) and Mark Sycamore (Christchurch). Their Australian counterparts on the senior team were Kurt Von Buren, Michael Lopez, Roshan Thammita and Jenny Key.
The Gourmet Pacific Challenge Young Professional Culinary Championship was a close battle between the youth competitors, but Australia prevailed with a gold medal while the Kiwi team was awarded silver.
The New Zealand youth team included brother and sister duo Troy and Heidi Waters (New Plymouth); while Oliver Ferguson and Tang Hou Chin made up the Australian youth team.
NZ Chefs Association National President, Anita Sarginson, said the NZCA Gourmet Pacific Challenge provided plenty of entertainment at Fine Foods New Zealand with the Kiwi chefs performing at an exceptional standard to secure their third straight win.
"This trans-Tasman battle is highly regarded in the culinary world and we are very proud of our chefs. They've demonstrated their commitment and skill once again to win top honours and defend their title," said Sarginson.
National pride was also at stake in the inaugural 'Farmer Brown's Great Pavlova Bake Off'. New Zealand and Australia each prepared, produced and decorated a pavlova to represent their countries. The great debate of who makes the best pav was finally settled with the Kiwi team of Steve Le Corre and Richard Hingston emerging victorious.
Head judge of 'Farmer Brown's Great Pavlova Bake Off', Anita Sarginson, said that both teams are to be congratulated for embracing the brief to create a unique country of origin theme. The Australians created a traditional Australian pav topped with tropical fruits, while the Kiwis took inspiration from a pav served at Christmas.
It was the New Zealand team that came into its own with a gold medal winning performance that Sarginson says, "demonstrated great team work and attention to detail. Their final creation was decorated with intricate red, green and white garnishes, and chocolate silver ferns. The result was a pav that any Kiwi would be proud of."