Another exclusive food blog with Hospitality Business: Follow Lesley Christensen-Yule on her travels through Europe and America. A celebrated food writer (The New Zealand Chef and The NZ Cook's Bible), share Lesley's amazing food experiences and insights here.
Snapshot Europe: walking from Positano, Italy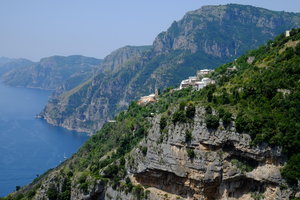 Our walk from Positano began under cloud cover for which we gave thanks to the ancient gods of the mountains. Nevertheless it was hot and sticky before too long. We took up the company of some fellow walkers from the USA and the UK.
After several hours in the heat we came around a bend and found a mountaintop restaurant, in what appeared to us to be the middle of nowhere. A hastily scrawled note outside informed us that there were fresh porcinis available so we all decided a drink and a bite to eat was in order.
What a delight the owner was, welcoming us into his restaurant. The only other diners being his family, we revelled in plates of porcini fried with garlic and olive oil, fresh soft white pillows of mozzarella from the farmer next door, tomatoes from his papa's garden and freshly baked bread. We weren't allowed to leave until we had all sculled a glass of his mama's home-made limoncello which seemed to be about 50% proof. Woh! We wound our way along the rest of the journey in a slightly drowsy but contented fug to finally reach our destination at the seaside village of Marina del Cantone.
Lesley Christensen-Yule
The New Zealand Chef
The NZ Cook's Bible