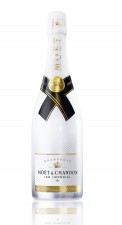 Now available in selected outlets around New Zealand, Moët Ice Imperial is the world's first champagne specifically created to be enjoyed on ice – a summer-tastic tipple that breaks all the rules. In the three years since it first launched exclusively in global hotspots around the world, Moët Ice Imperial has been seen celebrating in warm, exotic locations and exclusive destinations – be that a rooftop party in Sydney, the 'Festa Junina' festival in Brazil and now 19 of New Zealand's top restaurants.
"With Moët Ice Imperial, Moët & Chandon has created a new occasion to drink champagne, outside of 'traditional' moments," says Benoit Gouez, Chef de Cave of Moët & Chandon. "For the first time, a champagne has been created especially to be served on ice, the perfect compliment for spontaneous moments of celebration with friends on a warm summer day," he continued.
This summer, Moët Ice Imperial will also be available in leading fine wine retailers around the country, allowing New Zealanders to transform any summer escape into a stylish occasion. Moët Ice Imperial should be served on ice in Bordeaux glasses that enhance the freshness experience, and can also be garnished with mint leaves, a slice of cucumber or strawberries according to taste preference.
Moët Ice Imperial is now flying out the doors in Auckland at Soul Bar & Bistro, Baduzzi, Tom Tom, Britomart Country Club, The Conservatory, 46 & York and Harbourside Ocean Bar & Grill, in Wellington at Fox Glove, St Johns, Dockside and Shed 5, in Christchurch at JDV, Aikmans, Monday Room, Strangers and Co and Hotel Montreal, and in Queenstown at Botswana Butchery, Pier 19 and The Hilton.