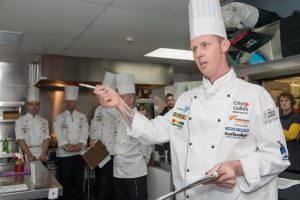 Teams of two students from throughout New Zealand will sizzle and sauté their way into winning the National Secondary Schools Culinary Challenge (NSSCC) at the grand final in August on 29 August at MIT.
The winners will be announced at an Awards dinner on the 29th and the students and their teachers will attend the inaugural NZ Culinary Journey on the 30th August.
Chief Judge, Mark Wylie, said the competition represents a once in a lifetime opportunity for students who want to enter the hospitality industry.
"This competition provides aspiring cooks the opportunity to impress some of the country's top chefs and with the standard of performance we have seen with this team it is game-on for the rest of the country.  Over the past four years many of the students have been offered apprenticeships in the hospitality industry as a result of their performance at this competition.
"The event showcases what happens when you combine some of our best up and coming talent with quality New Zealand produce," says Mr Wylie.
Each team of two students as won a $500 Bidfood voucher, two chef's jacket for the final and for the NZ Culinary Journey, a $200 Southern Hospitality voucher and travel assistance and accommodation to attend the Final and NZ Culinary Journey.
Bidfood are proud supporters of the National Secondary Culinary Competition. The up and coming talent of future chefs is outstanding. Supporting them through their culinary journey prepares these students for future careers in the hospitality sector.
The judges include:
Jeremy Schmid – Author and owner/chef at The Officers Mess wedding and function centre on Auckland's North Shore;
Ben Bayly – My Kitchen Rules judge and Head Chef of The Grounds, Waitakere;
Liam Fox, owner/chef, Forte Green in Auckland;
Craig Lucas – Chef/Lecturer, Manukau Institute of Technology;
Renny Aprea – Senior Lecturer, Professional Cookery, AUT University.
The National winners will each receive a $1,000 gift pack from vegetables.co.nz and City & Guilds and a $2000 scholarship towards their study of a City & Guilds International Catering Qualification, in a City & Guilds approved training centre of their choice.
The winning school will receive a $1,000 voucher from Bidfood, an ANOVA Precision Cooker and a Blue Seal Range Static Oven worth $7,000. Brian Davis from Moffat said 'Moffat is committed to supporting and  promoting the training of our up and coming chefs and one small way we can do this is to offer an oven as a prize to the winning High School ' .
NSSCC is run by the New Zealand Culinary Arts Development Trust and sponsored by City & Guilds, vegetables.co.nz, 5+ADay, Blue Seal, Potatoes NZ, Bidfood and Southern Hospitality.