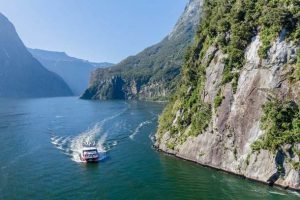 Tourism company Southern Discoveries is investing in a fleet of state-of-the-art coaches to service new coach and cruise day trips from Queenstown to Milford Sound.
Three new purpose-built, low-emissions Scania 400EB coaches are being constructed featuring extra-wide glass roofs that make the most of the alpine scenery and comfortable reclining seats with plenty of leg room.
Chief Executive Officer, Tim Hunter said the company prided itself on its customer service and is always looking for new ways to improve products and services to enhance the customer experience.
"The road to Milford Sound is a tourism experience in itself, and these new coaches will enable us to offer a seamless service from Queenstown, on vehicles and vessels that are purpose-built for sightseeing.
"The new coaches will include multi-lingual commentary en route, and we will ensure we have a number of day trip options to suit the needs of a wide range of visitors."
Southern Discoveries is Milford Sound's original cruise operator and has been owned by the Queenstown-based Skeggs family since 2008. The company now operates six cruising vessels and has 130 staff members in Queenstown, Te Anau and Milford Sound.
Southern Discoveries will launch its new coach and cruise products from Queenstown to Milford Sound from August 2017.