From delicious soups to tantalizing risotto's, MAGGI Vegetable Booster has it covered helping busy chefs to deliver great tasting, honest dishes.
With a general shift towards more conscious lifestyle choices, MAGGI Vegetable Booster lightens the load by supporting chefs to create delicious dishes that are suitable for a diverse range of dietary needs.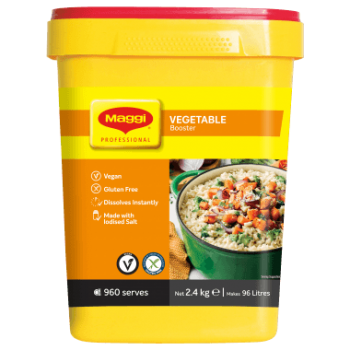 This perfectly blended full of flavour Booster ticks all the boxes as it's vegan and vegetarian friendly, gluten free, plus it dissolves instantly for effortless culinary creations. Its high yield – makes up to 96 litres – also saves on time, labour and costs making life in the kitchen just that little bit easier, so that chefs can focus on getting the best out of multiple dishes.
Easy to store in pantries, it comes in handy recyclable packaging. Made for Kiwis, MAGGI Vegetable Booster is proudly blended right here in New Zealand.
Try one of our great recipes today and discover more about MAGGI Vegetable Booster at www.nestleprofessional.co.nz