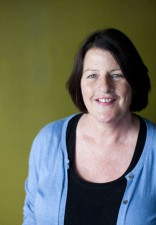 A former teacher at the Le Cordon Bleu cookery school in London, Kathy Paterson has been elected president of the New Zealand Guild of Food Writers (NZGFW). The NZGFW is the professional body for food journalists and others involved in writing about, presenting and teaching about the specialist area of food and beverages.
Ms Paterson has been a member of the guild for 15 years and was elected at its recent AGM in Auckland. She replaces Trudi Nelson who was in the role for a year.
A professional writer and food stylist, Ms Paterson is a regular contributor to a range of publications including Bite Magazine and Cuisine. She is also a recipe developer and food stylist for NZ Beef & Lamb's mEat Magazine as well as NZ-owned vanilla producer Heilala Vanilla. She also operated her own successful catering business for a number of years.
Having grown up on a sheep and beef farm in the Wairarapa Ms Paterson's links to the agricultural sector remain strong and she is an enthusiastic advocate of teaching people about the journey from paddock to plate.
"I have wonderful memories of roast lamb on Sunday, cold roast lamb on Monday and lamb fritters on Tuesday, all served with oodles of fresh vegetables from the garden.
"I believe it's vitally important to support the use of fresh, seasonal ingredients in home cooking," she says. "I describe it as food prepared at home in the traditional manner, with the connotation of comfort and familiarity."
Ms Paterson's cookbooks 'Good Honest Cooking' and 'The New Zealand Vegetable Cookbook' are examples of her hunger for making the most of New Zealand flavours.  She has a few plans in mind for her presidency, with a keen focus on nurturing young talent.
"While it is early days in my appointment, I am keen for the guild to work towards assisting young writers who want to specialise in the food area through sponsorships and mentoring and also look at how we may be able to work with food-related charities," she says.
"I'm also keen to broaden the involvement of our members within the guild while further developing our ongoing focus on professional development and networking opportunities."