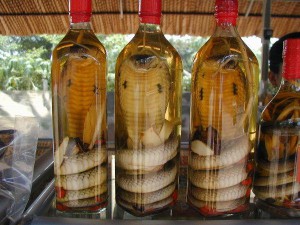 The Daily Star is reporting that North Korean despot Kim Jong-un has requested bottles of snake wine, each including a pickled cobra, be sent to his palace in North Korea. Legend has it that snake wine has medicinal properties and can both increase fertility in women and improve virility in men.
Jong-un and his wife, Ri Jol-su, are allegedly having problems conceiving due to health problems for Jong-un. The leader is said to have recently developed a taste for French cheese and Johnnie Walker whisky, which has made him so heavy he may have fractured his ankles and kept him out of the public eye for weeks.
"The elite in the country joke that he is now too big to please his wife and that's why they do not have any other children," a Seoul resident told the Daily Star. "One senior official said that Kim was drinking many bottles of snake wine to help him in the bedroom department but nothing seems to be working," they added.
Kim Jong-un already has a two-year-old daughter called Ju-ae.
According to Wikipedia, snake wine is an alcoholic beverage produced by infusing whole snakes in rice wine or grain alcohol. The drink was first recorded to have been consumed in China during the Western Zhou dynasty and considered an important curative and believed to reinvigorate a person according to Traditional Chinese medicine. It can be found in China, Vietnam and throughout Southeast Asia.
The snakes, preferably venomous ones, are not usually preserved for their meat but to have their "essence" and snake venom dissolved in the liquor. However, the snake venom is denatured by the ethanol; its proteins are unfolded and therefore inactive.
Source: Daily Star, Drinks Business (http://www.thedrinksbusiness.com/2014/11/kim-jong-un-necks-snake-wine-for-virility/), Wikipedia