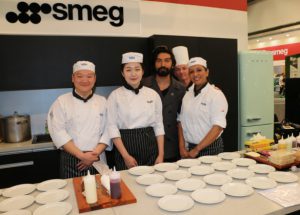 Three international students from the North Shore International Academy (NSIA),  based in Symonds Street Auckland, joined the opening event of The Jones Family Business display at this month's Auckland Home Show,  literally taking their culinary skills to a work of art.
The display – the largest at the show – featured 15 different categories and highlighted the new European trend of adding colour to traditionally bland stainless steel kitchen equipment, such as refrigerators. The students, Arti Singh, Krystal Wang and Jonathan Chow were tasked with designing their own foodie take on Dutch artist, Piet Mondrain's stylistic use of primary colours to a breakfast meal.
Mondrian, and the artists of De Stijl, advocated pure abstraction and a pared down palette in order to express a utopian ideal of universal harmony in all of the arts. By using basic forms and colors, Mondrian believed that his vision of modern art would transcend divisions in culture and become a new common language based in the pure primary colors, flatness of forms, and dynamic tension in his canvases.
At the display counter, purposely built for the show, was also Little & Friday entrepreneur and cook, Kim Evans, who produced a cake in the style of a mini refrigerator – reflecting the application of the new look for SMEG's new refrigerator. Little & Friday celebrated nine years of operating on the Home Show's opening day , so the celebratory cake was apt.