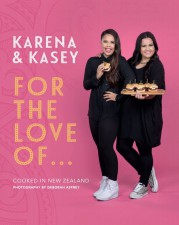 Kiwi cooks clearly have a crush on For the Love of…, the newly released cookbook self-published by MasterChef 2014 winners Karena and Kasey Bird.
According to Nielsen BookScan data released last week, the beautifully illustrated 240 page book is the number one seller in New Zealand – for the second week in a row. Only one other cookbook made it to the top 10 – Going Paleo by My Kitchen Rules Australia judge Pete Evans.
Karena and Kasey say they are absolutely thrilled, if a little stunned, by the book's success. "In writing the book we very much wanted to reflect our own personalities and those of our whanau and it seems that has been a touchstone for book-buyers nationwide and not just those interested in food.
"There is such a variety but all of the recipes used easily accessible ingredients, are delicious, always work and have had the same amount of love put in to each of them. We are humbled by all the attention," the sisters say.
The book is filled with easy and delicious recipes and the food paired with beautiful scenic shots of the duo's small beachside village of Maketu in the Bay of Plenty. It is a special cookbook highlighting New Zealand's unique culture and is the first from the current winners of Masterchef New Zealand.
To celebrate the launch of For the Love of… Karena and Kasey are currently touring New Zealand. Remaining stops scheduled are Gore, Oamaru, Dunedin, Christchurch, Ashburton, Auckland, Hamilton and Rotorua. Check www.karenakasey.com/events for details.