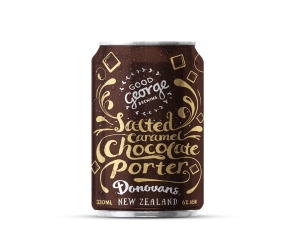 Chocolate and beer lovers can now enjoy a match made in heaven with the announcement of a chocolate infused original brew – Good George Salted Caramel Chocolate Porter.
Created in the heart of Waikato by local craft brewery, Good George, the appropriately named Salted Caramel Chocolate Porter is created for the adventurous beer lover who enjoys a bit of Donovans chocolate decadence on the side. A rich, full-bodied porter made with premium Donovans chocolate, the sweet brew has a hint of caramel and a dash of salt.
Hamilton-based brewery, Good George, specialises in crafted and blended brews and has a passion to bring Kiwi beer drinkers experiences worthy of their time and efforts.
Donovans Chocolate Brand Manager, Julia Toomey says, "We're excited to have collaborated with Good George on such a fantastic product that is made right here in New Zealand. It aligns well with our desire to deliver premium chocolate with more than a little Kiwi ingenuity."
Launched at Beervana in Wellington, the Salted Caramel Chocolate Porter was the top selling Good George brew and well loved by consumers who enjoy craft beer.
Good George Sales and Marketing Manager, Shannon Thorpe says, "Chocolate and Porters are natural bedfellows and the addition of salted caramel adds an intriguing twist, one that craft beer drinkers have taken a liking to."
The limited release Good George Salted Caramel Chocolate Porter can be enjoyed in a 330ml can and on tap in selected bars nationwide, Liquorland stores and selected speciality outlets. Beer lovers can also find the new brew online from www.goodgeorge.co.nz with an RRP of $4.99.