As well as learning new cookery skills, cookery students at NZMA Sylvia Park are also improving the lives of people across Southeast Asia and the Pacific.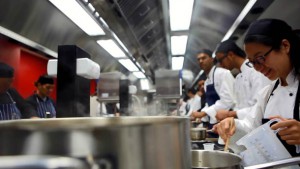 The students have been tasked with preparing mouth-watering treats using Fair Trade ingredients, which will then be sold in NZMA's 150-seat training café, Café Fusion, as part of Fair Trade Fortnight.  All proceeds will be donated to Oxfam, which is working towards achieving a fairer, safer, more sustainable world.
Deputy Campus Principal at NZMA Sylvia Park, Jasbir Kaur, said participating in the week-long fundraiser was a great way to increase students' awareness around Fair Trade and to support Oxfam.
"This sort of event really aligns with NZMA's vision of making a meaningful difference to people's lives.  It's a great opportunity for us to contribute, while at the same time encouraging our students to get creative in the kitchen, by cooking using specific, limited ingredients," she said. The Fair Trade products the students will be working with include bananas, chocolate and coffee.
Amongst the hot sellers are gluten free loaf, caramel cupcakes and roasted banana cheese cake. Jasbir said even a small amount of money raised, goes a long way. "By raising $142, you could provide a goat, two chickens, a duck and a boar to families living in poverty. Or by raising $320 you could help cover the cost of one year's training in life-changing farming methods."