What do a sherbet jelly, lemon meringue pie, caramel popcorn, and passionfruit flavoured pavlova have in common? These are just some of the creative drinks up for grabs when New Zealand's only cold drink challenge gets underway in Lower Hutt this month.
The "Cool As Challenge™" Summer Refresher Drink Challenge, into its sixth year, will see 14 hospitality operators including cafes, restaurants, bars and a bakery in Lower Hutt create their own limited edition signature summer refresher drinks for people to enjoy over two weeks.
Customers will be the given the chance to vote for their favourite drink by QR code located in each cafe or on "Cool As Challenge ™" Summer Refresher's Facebook, and Instagram pages, with the winning drink declared at the end of the challenge which takes place from 14 – 31 January, 2021.
The Challenge, founded by the Hutt City Council as a way to inspire local cafes to be creative and to attract people into the Lower Hutt CBD, it has grown in popularity since it was launched in 2016. It is also a 'summer version' of the successful "Sweet As" Hot Chocolate Challenge™, in which Central Hutt cafes create signature hot chocolates for customers to taste and rank over three weeks in winter.
Council's CBD Development Manager and organizer Cyndi Christensen says after a difficult 2020 for the hospitality industry due to Covid-19, the challenge will be a welcome boost and hopefully drive huge sales, as it has in the past, and increase foot traffic throughout the CBD.
"We know it's been an incredibly stressful period for hospitality operators with the impact of COVID-19. We are thrilled to have such a positive response from hospitality operators in the CBD, including some first timers, who really have put time and creativity into their signature drink entry.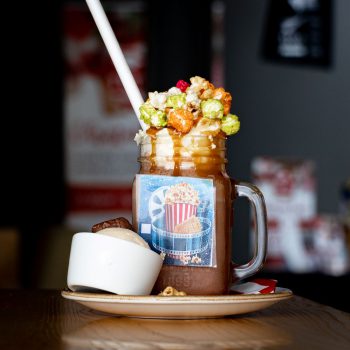 The challenge has really built up a solid reputation; we've even seen members of the public reaching out well in advance of the competition to see what drinks are on offer for 2021. More than ever people are keen to shop and support local, so we are expecting cafes to be run off their feet!" said Christensen.
Creativity and innovation is once again shown through with this year's entries. Customers can be treated to a Loaded Donut inspired milkshake from Fix Federation, a Taste of Honey beverage featuring Manuka Honey SHOTT Beverages syrup and Tapioca pearls from Roadhouse Bar & Grill, an Ultimate Lemon Meringue Pie drink from The Crooked Elm, a Sherbet Jelly Slushie for the kids from Buzz and even a humorous Not So Karen cocktail for the adults from Atrium Cafe – there is something to suit all taste buds.
To find out more about the challenge visit the "Cool As Challenge™" website coolaschallenge.nz or its Facebook and Instagram page.