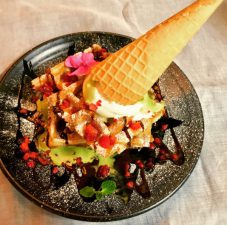 A delightful find in the new Little High Eatery in central Christchurch is Asian delight – Sushi Soldier, opened by the owners of Eightgrains Chinese Restaurant next door.
Mia Zhao, who is of Chinese descent, and her partner Andy Shiau, who's Taiwanese, are delivering classic, but not completely traditional, Japanese fare, incorporating their twist on new trends.
Ramen – a deliciously healthy Japanese noodle broth, slow-cooked for 15 hours, has had the nearby corporate crowd repeatedly returning, even as the weather warms up."We have a huge pot of it cooking all the time," says Mia.
Sushi is never the same here with heaps of variety, from black rice and vegan versions to a quinoa option and tempura deep-fried sushi. Inari – tofu pockets – have also been a favourite, as has maple waffle with green tea ice cream.
Sushi Soldier, 255 St Asaph Street Christchurch www.sushisoldier.co.nz.