Well prior to any lockdown kindness Whakatane's Turkish restaurateur Jahn Deniz was at it, blessing all of his competitors around him, even fellow cafes and restaurants.
The successful Ata Turk Enterprises restaurateur, who opened Whakatane's first Turkish café more than 14 years ago, has taken it into his own hands to help the local Whakatane District Council to revitalise the town's main street.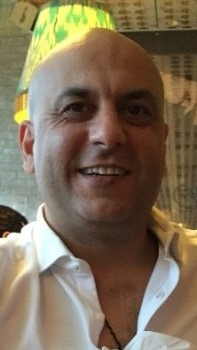 After all, one good turn deserves another. As part of its efforts to liven up the town the council placed one of a number of roadside platforms outside Jahn's café on the street front earlier this year as part of a three-month trial, he says.
Not one to miss a business opportunity, Jahn got busy placing framing and a shelter roof over his platform, installing lighting and four additional café tables with an extra 14 seats.
"Within months my business turnover had grown by 25 percent or more," says Jahn, who decided to share the spoils with his neighbours. He offered the other businesses in the main street a free paint job courtesy of his café and while a few turned him down, he says most were grateful for a bright new splash of paint. "I tried to use some South American colours."
Not only that, Jahn took his kindness even further spending $15,000 buying outdoor tables and chairs for other restaurant and café operators – a sushi bar, pub and café, all his competitors in the main street. "I don't see them as competition. They're not Turkish cafes," says Jahn, who specialises in turn key Turkish kebab shops around the North Island.
"When I came to New Zealand I had a suitcase and in the last few years I've made a huge amount of money and invested in real estate," he says. "New Zealand is wonderful. It's given me lots of opportunities."
But wait. This incredible kindness hasn't stopped. Jahn is now planning to build an organic holiday retreat, Tangaroa holiday hub in nearby Ohope, where cancer patients undergoing chemotherapy treatment can come and stay.
They will recuperate in four-star accommodation and enjoy wholesome organic food to help boost their immunity, he says. "I'm building a fully commercial kitchen and will employ a fulltime chef once the hub is up and running. His closest friend passed away from cancer, moving this kind hearted soul to help others. "I've already spent $200,000 on this project," says Jahn, who says Kiwibank has been hugely supportive of his New Zealand investments.
Not bad for a Turkish immigrant, who arrived in New Zealand 20 years ago hoping to immerse himself in the English language. He is believed to be the first Turkish student to study at the South Canterbury English Language School.
Jahn's hospitality career started with Mediterranean University tourism hospitality management and then after he moved to New Zealand he studied English in Timaru. He also did further studies at CPIT once he moved to Christchurch. His new qualifications landed him a job at one of Christchurch's leading Italian restaurants, Café Valentino's, where he worked for five years moving to the North ISland just before the 2011 earthquakes.
Jahn chose Whakatane in the Bay of Plenty to open his first restaurant. He recently sold a second restaurant in Whakatane and is now opening four more restaurants – a Turkish kebab house, pizza and pasta restaurant, garden restaurant and a café, all in Opotiki half an hour away.