The winners of the New Zealand Vegetarian Dish Challenge 2014 – a national competition celebrating the very best of fresh New Zealand vegetables – have just been announced.
There were three categories for the awards – Breakfast, Lunch plus Dinner and Fine Dining.
Wellington's Cobar Restaurant chef and owner, Ryan Tattersall won the Dinner and Fine Dining category with his Goats cheese, lavender and honey cannelloni with artichoke egg, artichoke puree, butterkin (a new cross breed of pumpkin and butternut) and fig.
Tattersall's creation was inspired by his recent honeymoon in Provence, France where the traditional flavours of goat's cheese, lavender and honey are often found. Tattersall also won last year's Vegetarian Dish Challenge dinner category and says, "The vegetables in the dish are menu staples for us at this time of year – pumpkin, Jerusalem artichoke and kale, all healthy and tasty. I wanted to have some fun elements in the dish so I decided to make the cannelloni with gnocchi instead of pasta and create the 'egg' with artichoke and cheese rather than just serving an egg."
"We're finding that more non vegetarians are eating vegetarian dishes and we are putting more effort into creating inspiring dishes that can be enjoyed by everyone," says Tattersall.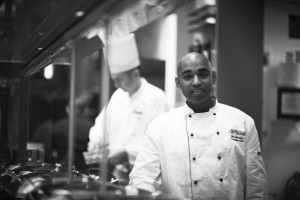 Jinu Abraham, executive chef at Auckland's Heritage Hotel won the lunch category with his dish of organic tofu and pea stuffed potato, smoked tomato and onions. This is a second win for Abraham as he also won the inaugural Vegetarian Dish Challenge in 2012.
"Since we have a popular plant based menu at the Heritage, including a raw plant based breakfast, this win means a lot to me. It's great to have a competition focussed on vegetables only," says Jinu.
-2-
 "This dish has been on our menu for over two years and is one of the top sellers. Vegetarian dishes are becoming more and more popular and as a chef  I am constantly challenging myself to get really creative and develop new ways of delivering vegetarian meals."
Auckland's The Riverhead's demi-chef, Subhashini Sathanantham won the Breakfast category with her inspired dish of golden kumara and red beetroot tart, quail eggs, cauliflower sausage, potato toast, garlic-infused vine tomatoes, buttered spinach and pumpkin hollandaise.
Sathanantham said that the win had given her a huge step up in her career and she was thrilled her passion for vegetables had caught the judges' attention.
"I based my dish on a traditional 'fry up' but wanted to make it colourful, healthy, delicious and cheerful – so many breakfast dishes lack the vibrancy of vegetables. It took me several weeks to experiment with the dish to achieve perfection. People think that vegetables are limited to being a side accompaniment to meat but being vegetarian myself I know that you can create so many interesting, delicious dishes that are worthy of main meals. It is important not to overcook vegetables, ensure the nutritional value is retained, and the flavours are at their very best," says Sathanantham.
Now in its third year, the New Zealand Vegetarian Dish Challenge, sponsored by foodservice and hospitality distributor, Bidvest, Choice Catering Equipment and Vegetables.co.nz, attracted more than 200 entries from chefs around the country. The competition was judged by Glenn Fulcher, NZ manager for City & Guilds of London, chef Andy Gibb, chef tutor at Nanyang Polytechnic in Singapore, Adrian Brett-Chinnery, Group Development Chef at Tanoa Hotel Group, Fiji and food writer and author, Lauraine Jacobs.
The three winners will each receive a Bidvest gift voucher, a Buffalo heavy duty microwave from Choice Catering Equipment and a mystery weekend voucher.