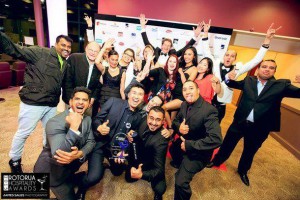 The 5th annual Rotorua Hospitality Awards, to be held on 17th July, 2016 at the Energy Events Centre, celebrates and recognises everything and everyone that is hospitality; from the front of house team and the kitchen crew; baristas to bar stars. From restaurants and bars, to top industry personalities the Rotorua Hospitality Awards salute hospitality excellence and all the great things the industry has to offer.
The glittering awards night is a big night out where everyone has a chance to let their hair down and raise a glass to hospitality in New Zealand's very own Vegas. Sharon Wallace, Rotorua Branch President of the Restaurant Association of NZ says with the evolution and success of the wards, adding a twist to the nomination process is both inevitable and good news for industry. Establishments now have the opportunity to nominate within their own team via the Rotorua Hospitality Awards website, as well as be given the opportunity to place a nomination towards their own establishment.
Combined with new categories this new twist allows for more recognition in areas establishments may be particularly proud of, widening the opportunities to all in hospitality no matter what your size.
Being chosen as outstanding as well as being the best in the industry is something worth raving about. The 2016 Rotorua Hospitality Committee encourages all in industry to go online at rotoruaawards.co.nz and start the nomination process. With the new user friendly website and guidelines surrounding the new opportunities the Rotorua Hospitality Awards have to offer, nominating your team members couldn't be easier.
No awards ceremony can take place without the support of key sponsors and the Rotorua Hospitality Awards are very lucky to have had the on-going support of many sponsors over many years. This year the 16 categories and the amazing sponsors that make it possible are:
Jasco Distributing Outstanding Bar
Restaurant Association of NZ Outstanding Barista
Restaurant Association of NZ Outstanding Bartender
Bidvest Outstanding Café
Skyline Rotorua Outstanding Caterer
Menumate Outstanding Chef
Restaurant Association of NZ Emerging Business
Service IQ Emerging Chef
The Hits 97.5 Outstanding Ethnic Restaurant
Inghams Outstanding Hotel Restaurant
OneMusic Outstanding Restaurant
Restaurant Association of NZ Outstanding Sales Representative
Rotorua Daily Post Outstanding Takeout
Restaurant Association of NZ Front of House Star
Rotorua Lakes Council People's Choice Award
Spark Business Icon of Rotorua Hospitality
Details on the event, voting and a link to tickets can be found at www.rotoruaawards.co.nz