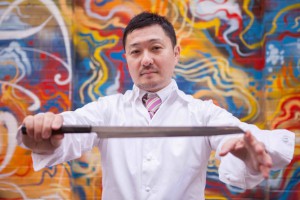 One of Europe's most celebrated sushi chefs is coming to Auckland in March. Endo Kazutoshi is recreating his acclaimed sushi at an exclusive series of events at SKYCITY's MASU by Nic Watt in Federal Street.
The Yokohama-born, former punk rocker is a third generation sushi chef who learned his craft from some of Japan's top sushi masters and continues to hone it through a career spanning 21 years.
Leaving Japan and looking for inspiration from different cultures and cuisines, Endo travelled to Spain serving an apprenticeship at the famed El Bulli under chef Ferran Adrià to gain a different perspective and approach to more traditional Japanese fare.
Endo is more recently best known for his role as executive sushi chef at internationally acclaimed Japanese restaurant group Zuma responsible for the sushi offer across restaurants in London, New York, Miami, Dubai, Hong Kong and Istanbul.
On a short break before opening his first restaurant in the UK, the master sushi chef is curating a special degustation selection of nigiri followed by dessert at the award-winning MASU by Nic Watt. Guests will be able watch the sushi master up close while seated at the granite counter overlooking the kitchen as he creates his masterpieces.
But sushi lovers will need to be quick. Up for grabs are just 96 tickets for only six sittings – two lunches and four dinners on Wednesday 16 and Thursday 17 March.
Nic Watt says the two met when both were working in London. "Endo is one the finest sushi chefs I have had the pleasure of working with. The fact he is a third generation sushi chef speaks of generations of knowledge passed down, insight that simply can't be learned in one lifetime.
"For superb sushi you need not only the finest ingredients but also the Japanese level of dedicated seriousness to the art to elevate a meal of uncooked fish on rice into a glorious gastronomic experience," Watt says.
"To have the opportunity to share his skills and knowledge at MASU is literally a dream come true for us all who live this restaurant's culture. He is a true master of his beautiful craft and I'm told when Heston Blumenthal wants sushi, he calls Endo."
Says Endo, "This is my first time travelling to New Zealand. But I hear a lot about the amazing products from New Zealand so I plan to use them in harmony with my speciality Tokyo style Sushi."
The details for Endo san's sushi bar series at MASU by Nic Watt are:
Lunch: Wednesday 16 and Thursday 17 March at 12.30pm – $100 per head (excludes beverages). 10 courses.
Dinner (two sittings): Wednesday 16 and Thursday 17 March 6pm and 8.30pm – $120 per head (excludes beverages). 12 courses.
Lunch and dinner guests dining at MASU on these dates will be also able to purchase a special Endo sushi platter with three pieces of nigiri for $20. A food-matching flight of three sakes is available for an additional $40 or diners can select from MASU's extensive beverage list at by-the-glass prices.
Bookings can be made by phoning MASU on 09 363 6278 or by emailing info@masu.co.nz.