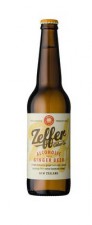 It's been a busy winter at the Zeffer Cidery. Alongside crushing the latest apple harvest, the team has been working on another innovative release, this time venturing into the world of ginger.
Zeffer's alcoholic ginger beer is the result of months of blending and brewing and head cider maker, Jody Scott, says the release is the culmination of a winter of hard work.
"We saw a gap in the market for an authentic, drier style ginger beer and set out to fill this gap over the winter months. Alongside our new cider releases planned for spring, it's led to a busy few months in the cidery and we're thrilled with the results."
Through numerous group tasting sessions the team identified the criteria that people sought out in a ginger beer; a strong ginger hit on the front of the pallet, mild sweetness to balance the ginger and a lingering spicy finish. To get that extra kick of spice, the team infused the leaves of a native tree spice called Kawakawa, an ingredient more commonly used in traditional Maori medicine.
"Kawakawa gave it the X factor we were after and added complexity and spice, it also made it uniquely New Zealand," says Jody.
Sourcing top quality ingredients and finding that point of difference was the focus for this latest innovation. "Using freshly fermented ginger root was important and getting the balance between spice and sweetness took a few attempts, but we've managed to keep the residual sugar levels very low, while balancing the strong ginger flavour and spice from the Kawakawa." says Jody.
Zeffer's sales and marketing director Josh Townsend said this uniquely kiwi brew has also been well received internationally. "We've had a great response from our global partners who noticed the gap for an authentic alcoholic ginger beer in their respective markets. We are shipping it to five export markets in August," says Townsend.
The ginger beer also balances out the Zeffer portfolio and is the first time Zeffer have stepped outside of the cider game.
"It fits with our philosophy of creating premium, uniquely New Zealand beverages and while craft cider will always be our core focus, ginger beer allows us to enter an exciting new category. It also balances out the highly seasonal nature of cider with a drink that is consumed year round," says Townsend.
Zeffer's real ginger beer is available in 330ml bottles, 4-packs and 500ml bottles and will hit the shelves at leading liquor retailers in August.