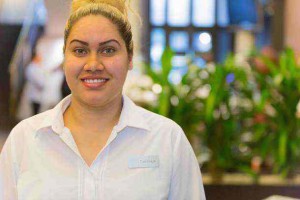 Australia's largest hotel operator, AccorHotels is well on its way to achieving its Employment Parity commitment after breaking through a total of 400 Indigenous Australian employees for the first time, and just nine months following the launch of the Federal Government's initiative.
AccorHotels, which employs over 10,000 staff throughout Australia, is one of the first Australian businesses to join the Federal Government's Employment Parity initiative with the goal of reaching 660 new employment outcomes by 2018.
AccorHotels' Aboriginal and Torres Strait Islander Peoples workforce now represents 4 per cent of all employees, with the goal of reaching 7 per cent by 2018. In 2015, there was a total of 277 new Indigenous starters resulting in a 49 per cent increase on the previous year, led by strong growth in New South Wales, South Australia and Queensland hotels.
Chief Operating Officer AccorHotels Pacific, Simon McGrath, said "Increasing sustainable job opportunities for Indigenous Australians has always been a priority since launching our initial commitment to Reconciliation in 2001.
"We're extremely proud of the progress we have made in 2015 with a record number of employment outcomes in a single year. This has been reinforced by strong Government and community support and an inexorable focus on closing the Indigenous employment gap across our entire business," said Mr McGrath.
In 2016, AccorHotels will implement 27 Indigenous job ready employment programs across the nation including expansion into Darwin, Kakadu, Mackay and Broome. At the same time, AccorHotels will continue to invest in building the strength of the 45 Indigenous leaders (supervisory positions or above) within the business through its internal training arm, AccorHotels Academie.
"We're edging closer to appointing our first Indigenous hotel General Manager within the next 12 months," concluded Mr McGrath.
Key 2015 Accor statistics are:
Wilpena Pound in South Australia and Cooinda Lodge Kakadu were the group's top performing hotels each welcoming 21 and 20 new Indigenous employees respectively.
Novotel Perth Langley and Novotel Cairns Oasis each placed 11 new starters, while Mercure Perth and Mercure Crocodile Hotel Kakadu placed 10 new Indigenous employees.
Novotel Sydney Central placed 9 employees, Novotel Twin Waters Resort Sunshine Coast welcomed 8, with Pullman Melbourne on the Park placing seven new Indigenous starters. Mercure Parramatta had six and Mercure Grosvenor in Adelaide welcomed five.
Of the 277 new hires, 125 candidates successfully graduated from AccorHotels' Indigenous Job Ready programs (20 conducted in 2016), while 152 were direct hires.
AccorHotels joined the Government Employment Parity Initiative in March 2015 and is committed to creating over 660 career outcomes by 2018 in addition to developing Indigenous role models in leadership positions.