Everyone likes a restaurant filled with hubbub, which is not the same as a restaurant that's too noisy. Quieting a noisy restaurant is easier & less expensive than you think.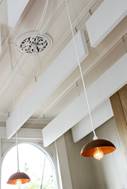 Is your restaurant too noisy? Acoustics can either make or break your business.
The design trend of opening out a space & stripping back to concrete or timber floors, exposed beams and more glazing has greatly contributed to the noisy reverberation in many restaurants. Along with the usual audio backdrop of coffee machines, music and clattering dishes – it has impacted on speech intelligibility making it very difficult to hear, let alone understand what is being said.
Acoustics is now being rated as a significant factor by diners as part of the whole dining experience – in the mix of food, ambience and interior design. In the ongoing competition for business, it is important to keep patrons comfortable by ensuring that restaurant noise is not so bad that eating & listening is almost impossible.
Ceilings treatments are a more cost effective option because they don't need to be as robust as applications at ground level. The Ecoplus Cloud Systems are a range of streamlined panels & baffles – of different shapes and sizes. They are light yet absorb & control a high level of reverberative noise without detracting from the elements of the space. Or, they can feature as a decorative addition with artwork & graphics printed on them.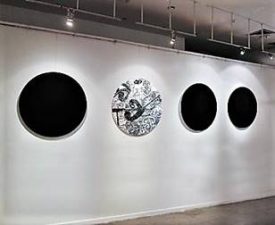 Easy to install or retrofit, the panels are either held by steel cables fixed to the ceiling or set in an aluminium channel fin.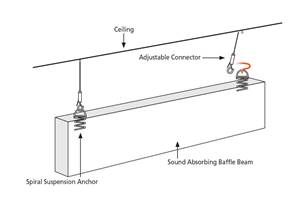 And remember to check with your accountant as these panels can be considered part of the furniture assets & fittings schedule which is then depreciable.
If you have a café, restaurant or bar and would like a free quote to supply & install – please contact us at Ecoplus Systems, we'd love to hear from you: 0800 432 675 or 021 940 301
http://www.ecoplus-systems.com/casestudies/Case-Study-Orphans-Kitchen.pdf