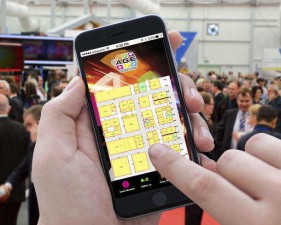 Last year, AGE visitors were able to download an App for their mobile phone. This year at the AGE organisers have updated the App with new features which will help visitors to find exhibitors at the show and also keep the visitors abreast of news and activities while they are at the show.
As with last year, visitors who have installed the AGE App on any of their mobile devices will receive a welcome message as they pass through the entry gate. Once they're inside the exhibition and pass various points they will get updates to remind them about such things as the time of the Daily Vegas Draw, entertainment and other activities.
In addition to this, visitors can use the App to locate any exhibitor at the show. They can search the alphabetical exhibitor database that's included in the App and then simply click on the stand number for an exhibitor's location on the interactive show map.
In order to get these features, visitors must install the latest version of the AGE 2016 App.
Further details about the app are available at the AGE web site or it can be downloaded by simply visiting the Apple App Store or Google Play.
Featuring more than 200 exhibitors across 17,000 square metres of exhibition space, the Australasian Gaming Expo is easily the biggest event of its type in Australia and one of the world's biggest. All indications are that the exhibition will again be full to capacity with a wide range of companies showcasing the world's best gaming and related equipment and services
Last year's Gaming Expo saw a number of changes resulting from the move to the temporary location at Glebe Island, all of which have been favourably received. Interstate visitors were particularly pleased with the free Ferry travel from Darling Harbour to Glebe Island, affording them a spectacular Sydney Harbour cruise.
Of course there's more to the Expo than a cruise, with one visitor summing up their Gaming Expo experience in the following words: "Always interesting not just to see new products but totally new ideas and ways of doing business….. new areas of thought into how to trade."