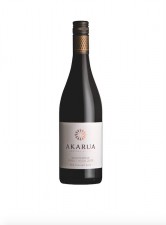 Bannockburn producer Akarua is welcoming the New Year with news that Akarua Pinot Noir 2013 will feature on Cathay Pacific's First Class wine programme from late January 2016.
Akarua is Central Otago's largest family owned winery with almost 100 hectares of vineyards in Bannockburn and Lowburn. Established by Sir Clifford Skeggs in 1996 the winery is now run by his son David Skeggs.
Akarua Pinot Noir is the winery's flagship Pinot Noir and is grown on their Cairnmuir Road Estate in the picturesque Bannockburn sub-region, widely regarded as the 'jewel in Central Otago's crown'. With every vintage this wine continues to excel with the 2013 vintage already achieving two Trophies and seven gold medals. 
Winemaker Andrew Keenleyside believes that the 2013 vintage has been one of the most exciting in recent years. "The 2013 vintage provided the ideal growing season due to an extended summer allowing the grapes to fully ripen beautifully – this led to a rich full flavoured and perfectly balanced wine. I am really pleased that this vintage is receiving the recognition it deserves". 
Central Otago is internationally renowned for pinot noir and this achievement will further highlight Akarua, Central Otago and indeed New Zealand wines to a select and influential group of international travellers.
Akarua General Manager Kathryn Pettit said "it has been particularly satisfying to know that this wine has been through a very stringent submission process and to have been selected amongst so many other international wines is a strong endorsement to its quality. There is a strong synergy in terms of Akarua's philosophy of delivering world class wines to its consumers and Cathay Pacific's commitment to service on its airline fleet".