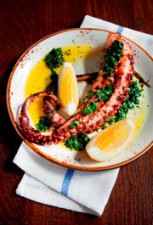 Auckland's restaurant scene continues to simmer with the annual Metro Top 50 serving up eight newcomers and a first-timer in the 13th year of the awards.
The magazine's Top 50 restaurants in Auckland released last week are all in the running for the Metro Restaurant of the Year 2015 to be announced at the Metro Peugeot Restaurant of the Year Awards industry awards dinner on 20 April.
Metro editor Simon Wilson says the magazine's list highlights four big trends in Auckland dining. "The continued rise of shared dining is in evidence at many places where 'dishes to share' are prominent on the menu," Wilson says. "The communal nature of dining is being strongly reinforced, and that feels like a good thing."
The second trend is entrepreneurship, Wilson says while SkyCity has the highest profile for its expansion along Federal St, several of Auckland's other leading restaurateurs are also branching out. "Mark Wallbank and chef Che Barrington have recreated their very successful formula of smartly presented Asian-inspired food in exciting surroundings at Woodpecker Hill. Sid Sahrawat now also has the extremely cool 'modern Indian' restaurant Cassia, in Fort Lane. In the past few months Mark Keddell has opened both Matterhorn in Freemans Bay and The White Rabbit on Customs St near Britomart."
Wilson says there's a third trend he's not so happy about: a growing gap between the best service and the rest. "Put simply, there are now many more good chefs and otherwise good restaurants that are let down by poor service. Very often, the reason an established name has lost its place on our list is the service. It's a major challenge for the industry, which they know about, but which it is becoming very hard to overcome."
Returning favourites that failed to make the cut the previous year are Café Hanoi in Britomart, Mt Eden's Molten and perennial Ponsonby bistro Prego. The nine new restaurants gracing this year's Metro Top 50 include successful restaurateur Sid Sahrawat's new establishment Cassia and Toto offshoot Farina in Ponsonby.
Matterhorn, the Auckland sibling of the successful Wellington restaurant of the same name is also included, as are Odettes in City Works Depot and Pilkingtons in the city.
Completing the new nine are Grey Lynn's Siostra, The White Rabbit in the former Crown pub in the city and Parnell newcomer Woodpecker Hill. Gusto at The Grand is a first time finalist after missing the cut in 2014.
There has been a range of changes to the Metro Top 50 in 2015 with seven new categories replacing retired awards and a new public voted category, the Peugeot People's Choice Award for Auckland's Favourite Dish.
The new categories in 2015 are Best City Bistro, Best Neighbourhood, Best Destination, Best All Day Restaurant, Best Room, Best Shared Table, Best Value for Money and Peugeot People's Choice Award (Auckland's Favourite Dish).
The Peugeot People's Choice Award for Auckland's Favourite Dish finalists are:
Depot: Skirt steak with tobacco onions & habanero mustard
Coco's Cantina: Potato and ricotta ravioli
Baduzzi: Maltagliate with duck and porcini ragu (torn pasta dish)
Cibo: Salted caramel pavlova with toffee peanut brittle and chocolate dust
Prego: Zuppa di pesce (Mediterranean seafood soup)
The Blue Breeze Inn: pork buns
Ostro: Beef brisket burger with chips
The Engine Room: Veal Holstein (schnitzel with anchovies and an egg on top