They turn up for work on time, don't play with their phones and don't come to work hungover. These winning attributes have hospitality operators snapping up baby boomers to fill the huge staffing void created by the Covid crisis.
Jeff Williams, chief executive and founder of Australasian hospitality recruitment company Barcats, says when the borders are open there are normally about 70,000 backpackers floating around New Zealand looking for work. Many other young foreign hospitality workers have returned to their home countries during the crisis this year, leaving a 25 to 30 percent gap in the industry.
Hospitality is once again bucking the unemployment trend. "We have found ourselves with more jobs than staff members," says Jeff.
Barcats currently has 83,000 staff using its platform in Australia and New Zealand with 23,000 of those in New Zealand. Of the 21,000 venues looking for staff right now, some 3500 are in New Zealand, mostly in Auckland, Wellington, Christchurch and a small number in Queenstown.
"We've experienced a massive 550 percent national increase in over 50's joining our community and wanting to get out there and work during the last six months," says Jeff.
"Christchurch has experienced the biggest leap in signups from over 50's with a significant 875 percent increase, followed by Auckland with a 325 percent increase."
"We saw this huge gap in the industry and knew we had to do something differently so we tried marketing to baby boomers," says Jeff. "Many are keen to get back into some part-time work as they're doing it tough. Their hours may have been cut, share portfolios affected or they're supporting unemployed family members," he says. In the days before student loans many baby boomers worked in hospitality to put themselves through their studies so for them it's just a matter of getting back into it and retraining, says Jeff.
"They're generally more reliable, stable and supportive with a strong work ethic. They're seen as a good balance."
In just two days in mid-November Barcats added 100 new hospitality jobs to its site, everything from cellar door staff to baristas, bartenders, chefs and kitchen hands.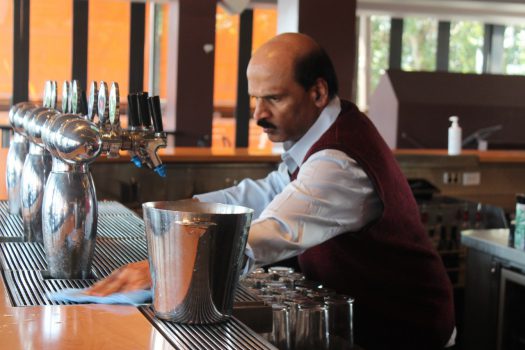 "We've had an overwhelming reaction from employers using baby boomers," says Jeff. "Operators are so surprised." Contrary to popular perceptions, baby boomers are light on their feet, super reliable and fast. "A 22-year-old could potentially arrive hung over, not turn up at all and potentially be a bit flaky, versus a baby boomer who turns up all day, every day and engages with the clientele the way you want them to," he says.
It's been a matter of educating employers too. "It's really hard to find a good chef so we suggest they can split that fulltime role into two or three part-time jobs if one is more focused on prepping, as many baby boomers have had experience at that."
Owner of Auckland's Buoy Café, Ginette Auld, gave her baby boomer customer Mary-Jane Mumford a job a few months ago and is delighted with the results.
Mary-Jane, who has extensive business experience as a sales and area manager, suddenly lost her work as a tour guide in New Zealand for an American tour company when the main lockdown hit.
"Baby boomers have been brought up 'old school'," says Ginette. "They generally have a much better sense of responsibility, good manners and more respect which is very important."
Age doesn't matter as long as people can do the job. Ginette had a wonderful young Japanese girl working for her who had to return home because of the Covid crisis.
However, many young people "don't know how to Jiff a sink let alone set a table nicely as their parents haven't taught them," says Ginette.
"I'd much rather take somebody on knowing they're that much older and more experienced and know how to engage well with the customers. "The older generation put everything into every job they do, no matter what it is."
Ginette, Mary-Jane and another casual male café worker in his 50s, who sometimes helps out, were greatly amused when a young customer thought the three of them must be related in some way. "His mother had told him if you ever want anything done go to an old person as they know what they're doing," she says.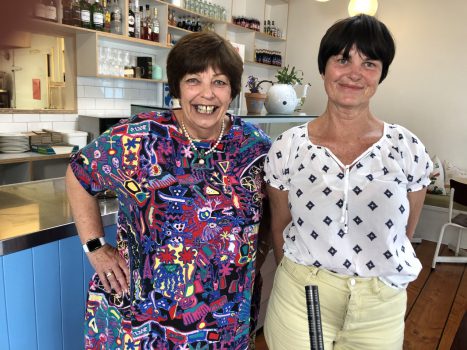 "The customers love Mary-Jane. She's open and a joy to work with," says Ginette.
While it may be a little trickier for baby boomers to pick new things up, Ginette says her Mary-Jane more than makes up for anything like that with her bright, happy to be there personality.
And thankfully, Mary-Jane isn't on her mobile phone while she's at work. "Many younger ones are on their phones all the time. It's really hard to hammer into them that they have to put their phones away," says Ginette.
As for Mary-Jane, she couldn't be happier to be working and engaging with people. "I'm a chatter and a salesperson first and foremost and people love that. Generally it's too busy but in the quieter times I find a minute to talk to the customers," says Mary-Jane. "I think older people find it easier to approach people and be open with them more quickly. People just appreciate some personal kindness."
Her younger workmates have welcomed and encouraged her. "It took me a while to pick things up initially, but I said to the younger ones, 'don't pussyfoot around, just tell me what you want me to do," she says. "I may not achieve as much speed on the floor as they do. I'm quite happy to deliver the coffee to the tables and make sure I don't spill it," she laughs.
Mary-Jane encourages other baby boomers finding themselves suddenly unemployed this year to give it a go. "You've got to lose who you think you were and be prepared to diversify and see everything as a joy," says Mary-Jane. And to employers she says, "If you give baby boomers a chance they will be a treasure."