It all started with a homesick hankering for a good Kiwi pie in January, but within just seven weeks a group of young Kiwi flatmates making homemade pies in London can barely keep up with demand from ex-pat Kiwis and Aussies.
Friday Pies was launched by the five Kiwi uni mates on January 22 this year, mainly born out of lockdown boredom and a longing for a good Kiwi pie, says one of the team, Stephanie Armstrong. "We had some extra time on our hands so we dedicated ourselves to perfecting the national comfort food and taste of home that we missed the most," she says. Once they had, they were too good not to share.
"New Zealand makes the best pies in the world, hands down. We get so excited when someone says our pies took them right back to their favourite pie shop in New Zealand," she says.
Flaky puff pastry on the top is a must, rather than the more biscuit-like, or crumbly, shortcrust pastry, which is what you commonly find in the UK, says Stephanie. The Brits also eat pies as a sit-down meal with gravy and sides, rather than straight from the paper bag, with the sauce inside the pie. They don't know what they're missing out on!"
The group came up with the idea sitting around the table at home one Friday during lockdown, thus the name. At first Stephanie says they just made a bunch of pies and sold them to their mates for a donation to charity, just so they could test their product. They've been overwhelmed with the response and it's been "full steam ever since" with their blossoming start-up. "We've scaled up from 60 pies a week, to 280 pies a week within five weeks."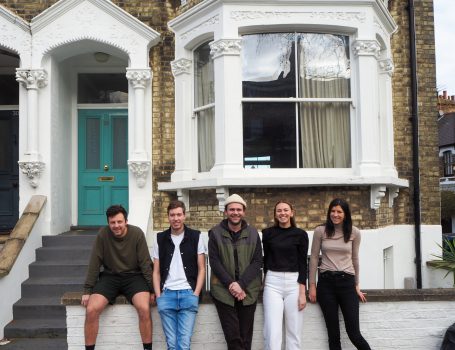 Finding long sheets of puff pastry was difficult, but they managed to track some down at Wild Goose Bakery in London. "The owners of Wild Goose are legends and have unofficially become our mentors," says Stephanie. "The hospitality community over here in London is incredibly supportive and keen to share advice."
The demand from ex-pat Kiwis has been huge. "New Zealand and Australian ex-pats make up most of our customer base," says Stephanie. Despite the big community of Kiwis in London, it's still hard to track down a Kiwi pie, she says. "We firmly believe New Zealand makes the best pies in the world and we're on a mission to change the way Brits eat pies. Having pints in the park is a London summer tradition and we want everyone stomping around with pies in paper bags by June," says Stephanie. "We have our work cut out for us."
Most of the team has little or no hospitality or restaurant experience, but they have Friday Pies head chef Thomas Mills, a chef at Ozone in Shoreditch, London, at the helm directing their twice-weekly, after-work pie cook-ups. Besides Thomas, Stephanie's Burger Burger front of house uni job in Ponsonby and Katy's love of entertaining is all the experience they had.
With demand spiralling in just a few weeks they moved out of their Islington flat kitchen to a commercial kitchen in Walthamstow, juggling Friday Pies around day jobs in everything from analytics and business strategy to medical sales and marketing. As for Thomas, he's just created yet another winner – The Brady, a buffalo chicken, pickled red onion and blue cheese pie, now one of their fastest selling pies. The Katie Pie was their first – a vegetarian mince and cheese pie made with mushrooms.
They have the sustainable thing under control too, delivering by pushbike to a handful of postcodes in North and South London, focusing on districts where Kiwis are congregated, such as Clapham, Highbury and Islington. "We're currently looking at the best way to deliver London wide," says Stephanie. "We want Friday Pies to be as sustainable as possible."
A couple of exciting collaborations are planned for the months ahead with the focus on scaling up production so that they can explore opportunities to sell through their favourite cafes and pubs. Friday Pies are not the only ones feeding Kiwis pining for pies from home. Kiwi, Lilli Sampson launched her small flat kitchen operation, Puffy Pies, in October last year. She can barely keep up with demand selling her delicious, secret recipe, mince and cheese, Kiwi-style pies to friends and workmates.