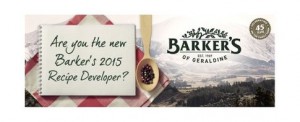 Are you the best baker, a corker cook, a gifted gastronome? If so, you could be The One.
Barker's of Geraldine have taken to social media to find their new 2015 recipe developer/ food blogger. The nationwide search encourages keen foodies to create their spin on a classic recipe, using Barker's products, and then photograph the results.
The winner will receive a 12 month recipe development and social media contract with Barker's to create delicious recipes using Barker's products, a trip to the family farm in Geraldine, a one-on-one recipe development and food styling workshop with Annabelle White, plus a special Barker's gift pack. The total prize value worth over $7,500.
Recipes and photos will be judged by the Barker's team as well as friends of Barker's, popular food writer Annabelle White and respected food stylist and photographer, Tamara West who has shot many top selling cookbooks for NZ chefs including Nadia Lim and Chelsea Winter.
Michael Barker, says, "We are excited to support keen, up and coming, talented foodies and are looking forward to see what tasty recipes they come up with.
"With social media playing such a crucial part in our everyday lives, it's the perfect platform to host our search as Kiwis from all over New Zealand can enter easily."
Annabelle White is excited to be a part of the Barker's 2015 Recipe Developer Search and is thrilled to be able to make one lucky Kiwi's dream come true.
"Food blogging and a savvy approach to social media is the way of the future and, thanks to Barker's, Kiwis are being given a once-in-a-lifetime opportunity to take that next leap forward.
"This competition not only rewards keen foodies, it will be a dream come true for one, opening doors and providing training and support to make the journey as delicious as a spoonful of Barker's fruit jams," says Annabelle.
For more information visit the Barker's Facebook page: www.facebook.com/BarkersOfGeraldine
To Enter visit http://bit.ly/1ttKi1P