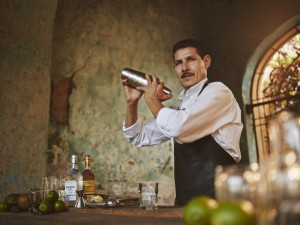 Hundreds of bartenders from all over the world are being called to enter into battle, as Jose Cuervo launches its global Dons of Tequila competition. In the first challenge of its kind, bartenders will have the chance to win the prize of a lifetime: fly to Tequila, Mexico where they'll get to harvest their own crop of agave on the Jose Cuervo estate, blend it into a unique tequila and win the batch, labelled under their own name.
Bartenders from across New Zealand are encouraged to get involved and as well as the chance to win a trip Mexico, six lucky Kiwi winners will be invited to prove they've got what it takes to become a Don at the national finals in Auckland. The national finals will include a two night all expenses paid stay and a very special activity day that will teach them all things Jose Cuervo and recreate the authentic Mexican Tequila experience here in New Zealand.
Jose Cuervo's Dons are the real heroes of tequila – people, past and present, who epitomise the expert craft, passion and bravery required to make the world's most popular tequila. Their unwavering belief in quality and the spirit of tequila – true bonds, real friendship and good times – is what keeps Jose Cuervo's 250 years of heritage fresh and relevant. The bartender who is named the next Don will need to embody all of these qualities for a chance to follow in the footsteps of some of the world's greatest legends of tequila.
Commenting on the launch of the competition, Nigel Truphet, Managing Director at Jose Cuervo International says, "Jose Cuervo has, over 250 years of family and company history, demonstrated the grit, expertise and an uncompromising passion for quality required to be and to remain the world's number one tequila. Becoming a Don of Tequila is the ultimate accolade, which is only awarded to those who truly deserve it. We'll be setting bartenders all over the world, challenges that demonstrate their creativity, passion and worthiness of the 'Don of Tequila' title."
Aspiring Dons can compete for this prize of a lifetime by uploading a photo of their own tequila serve, inspired by one of the current Dons, at DonsOfTequila.com. The top entries will compete at a national final event in July 2015, where they will have to show judges they have the passion, grit and cojones to become a don. Bartenders will be expected to capture the spirit of the Dons and demonstrate a real knowledge of Jose Cuervo tequila.
The best-of-the best from each country will then be taken to the Jose Cuervo distillery, La Rojeña, in the town of Tequila, for a final global showdown where they will be put to the ultimate test in front of today's true Dons.
For full terms and conditions see www.donsoftequila.com