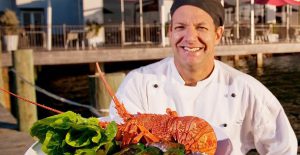 The inaugural Bay Hospitality Awards are here celebrating the Hospitality Industry in the region and saluting hospitality excellence. Organised by the Restaurant Association of New Zealand, the Bay Hospitality Awards will follow a successful formula used in other regions around the country.
"The Bay Hospitality Awards are all about honouring the heroes in hospitality by promoting excellence in the industry. It is the chance for hospo colleagues to celebrate together and recognise their own", says Marisa Bidois, CEO of the Restaurant Association of NZ.
"We are very excited to be bringing these awards to the Bay region, the benefits of a peer recognition awards programme that celebrates dedication and excellence not only draws our industry closer but also raises aspirations and performance in the region" Ms Bidois concludes.
The event has attracted important support already, with local and national category sponsors signing up to be part of the inaugural event including Pernod Ricard, Goodman Fielder, Independent Liquor, Bidvest Tauranga, Moana New Zealand, OneMusic, Menumate Point of Sale, Gilmours Tauranga, Spark Business and Mills Reef Winery.
Bay Hospitality Awards Chairman and Restaurant Association Bay of Plenty branch president Andrew Targett, (also local business owner of Elizabeth Café & Larder), adds "We are grateful to our sponsors for believing in the event and in the Bay hospitality industry as a whole. As a region that attracts enormous numbers of visitors it is essential that the level of service and what we have on offer here is of a high standard. We believe that, over time the Bay Hospitality Awards can only enhance our local and visitor experience".
The 2016 Bay Hospitality Awards Categories includes:
Pernod Ricard Outstanding Bar
Goodman Fielder Outstanding Barista
Independent Liquor Outstanding Bartender
Outstanding Café
Outstanding Caterer
Bidvest Tauranga Outstanding Chef
Moana New Zealand Emerging Talent
OneMusic Outstanding Design/Ambiance
Menumate Point of Sale Outstanding Front of House
Restaurant Association of NZ Outstanding New Venue
Gilmours Tauranga Outstanding Restaurant
Spark Business Outstanding Sales Representative
Outstanding Street Food
Mills Reef Winery People's Choice Award
People and businesses in the hospitality industry will be asked to nominate individuals and establishments in the Tauranga, Mount Maunganui and Papamoa regions.  The top three in each category will make the final round of voting.  All members of the industry will then be asked to vote for one of the three finalists in each category and the person or establishment that receives the most votes in their category will be announced as the winner at the awards evening held at Mills Reef Winery on Sunday, 27th November 2016.
Nominations are now open with voting available online for hospitality industry workers, owners, suppliers and sales reps to the industry.  The Bay of Plenty general public are also able to vote for their favourite establishment in the Mills Reef Winery People's Choice Award category.