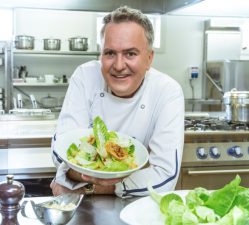 This year's Taste of Auckland in partnership with Electrolux just keeps getting better with a host of big names in the food world newly added to the line-up including Nick Honeyman from Paris Butter, Simon Gault and Giraffe, Nic Watt of True Food & Yoga and The Tasting Shed's, Ganesh Raj.
From 16-19 November, Taste of Auckland at Western Springs will become a food lover's paradise with free live cooking demonstrations, intimate chef experiences, a gourmet hāngi, artisan food and beverage producers, wineries, craft brewers, cocktail bars and of course a smorgasbord of delicious food, plus a whole lot more.
With top Auckland restaurants serving dishes at the event already including Baduzzi, Euro Bar & Restaurant, Tok Tok, Saan, Vodka Room and Miss Moonshines, new names rounding out this year's line-up include acclaimed French eatery Paris Butter, modern Chinese favourite ARTWOK, new contemporary Indian restaurant 1947 Eatery and a special Eat NZ collaborative kitchen headed up by the Cult Project.
A jam-packed line-up of leading culinary stars will take to the big stage at the ever-popular Electrolux Taste Theatre, with free live cooking demonstrations from Simon Gault of Giraffe, The Tasting Shed's Ganesh Raj and Saan's Lek Trirattanavatin. They join Cazador chef Dariush Lolaiy, Cameron Knox from Tok Tok and acclaimed Australian chef and Masterchef co-judge George Calombaris who is also making appearances on the Saturday.
A must see for anyone with even a passing interest in healthy eating, Good Taste sees Buffy Ellen from Be Good Organics, Megan May from Little Bird Organics, Lauren Glucina from Ascension Kitchen and Masterchef winner Aaron Brunet join previously announced Art Green, Matilda Rice and Kelly Gibney in the Electrolux Taste Theatre.
For a contemporary take on traditional Māori cuisine, check out the Gourmet Hāngi. Hosted by hāngi masters Rewi Spraggon and Riki Bennett, guest chefs including newly announced food writers and former Masterchef winners Karena and Casey Bird, Sergio Maglione of Farina, Kyle Street of Culprit and Ben Bayly's team at The Grove, will each offer festival goers their own unique contemporary gourmet take on a Māori hāngi in different sessions.
For a more intimate experience, secure your spot in the Electrolux Chefs' Secrets where you can cook and dine with some of the country's top names in food, including Nic Watt from True Food & Yoga, Clooney's newly appointed chef Jacob Kear and FISH chef Fraser Shenton.
"With only 16 places available for each class at a value-packed price of $15 demand for the Electrolux Chefs' Secrets is expected to be fierce," says Festival Director Rob Eliott, who suggests checking the website for more information and arriving early ahead of your preferred session to acquire a place. www.tasteofauckland.co.nz