Once again, Beervana is shaping up to be the premier craft beer event in New Zealand, with a stellar line up of breweries and top eateries presenting craft beer-friendly food at this two day event, held in Wellington in August. More than 60 breweries from around the country, as well as some from the USA and Australia, will be showcasing more than 250 different craft beers and ciders during Beervana, held on 22 and 23 August at Westpac Stadium.  (see list below).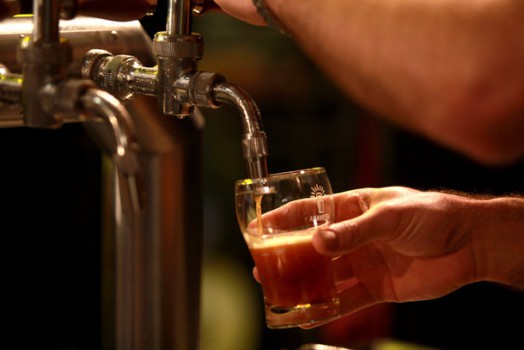 "It's an exciting time to be part of the craft brewing industry in New Zealand, with Beervana showcasing some of the best in the country as well as profiling beers from some of the newer breweries to hit the scene," says Beervana Director David Cryer.  "With the additional element of our "Beervana Exchange," where three award winning brewers will be here from Portland, as well as other events within Beervana such as specialist beer seminars, home brew and media brew competitions and the launch of the New Zealand chapter of the Pink Boots Society, which supports women in the brewing industry, there will be something for everyone."
To enjoy alongside the brews, Beervana's Culinary Director Martin Bosley has again gathered some of Wellington's top eateries.  "I've brought together some of Wellington's best restaurants, ensuring that each provides a sensational variety of food, all different, yet all complementing or contrasting the craft beers available," says Martin Bosley.  "As the quality of craft beers has improved, so has our understanding of just how important it is to match the food to them. Frankly, this year's line-up shows just how much craft beer has been embraced by the capital's restaurants."
The eateries include: Boulcott St Bistro, Big Bad Wolf, Epicure, Grill Meats Beer, House of Dumplings, Monsoon Poon, The Fire Truck, The Goose Shack, The General Practitioner and Tommy Millions.
Tickets are available at www.ticketek.co.nz
For all previous media releases please visit: http://beervana.co.nz/media/
Beervana Director:                          David Cryer                         [email protected]                 021 430 216
Current List of Breweries at 2014 Beervana as at 4 July 2014
8 Wired Brewing
Adnams Southwold
Aspall Cyder
Bach Brewing
Behemoth Brewing Co
Black Dog Brew Co
Brew Cult
Brew your own – by Speidel
Bridge Road Brewers
Brothers Beer
Cassels & Sons Brewery
Cider Hutt
Craft Bar
Commons Brewery
Deep Creek Brewing Co
Drs Orders
Eagle Bay
Emerson's Brewery
Epic Brewing Co
Feral Brewing
Fiasco Brewing Company
Fork Brewing
Funk Estate
Galbraith's Alehouse
Garage Project
Gigantic Brewing Company
Good George Brewing
Green Beacon
Hallertau
Hancock & Co Beer
Hop Federation Brewery
Hot Water Brewing Co
Imake
Kereru Brewing Company
Lakeman Brewing Co
Liberty Brewing Co
Little Creatures
Loebethal Brewhouse
Mac's
Mash Brewing
McCashins Brewery
Moa Brewing Company
Monteiths Brewing Company
Mount Brewing Co
Mountain Goat
Murrays Brewing
Nail Brewing
North End Brewery
Panhead Custom Ales
ParrotDog
Pink Boots Bar
Queenstown Brewers
Rocky Knob Brewing Company
Steam Brewing
Stone & Wood
Sunshine Brewery
The West Coast Brewery
Three Boys Brewery
Tuatara
Two Birds
Widmer Brothers Brew
Yeastie Boys
Young Henry's
Zeelandt Brewery
Zeffer Cider