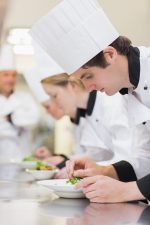 In a new Australian foodservice industry initiative, more than 300 chefs across the nation have been given the opportunity to vote for their favourite products, rating them on five criteria to determine the winners of the inaugural Chefs Decision Awards.
Each chef judged products on taste, ease of use, value, texture and versatility to determine the best overall product within each category.
The six category winners are:
Powdered boosters           –           Knorr
Frozen vegetables              –           Edgell
Herbs and spices                –           Masterfoods
Rich brown gravy               –           Maggi
Chips                                      –          McCain
Mayonnaise                         –           Birch & Waite
With all participating chefs screened to ensure they are experienced decision-makers – head/executive chefs or foodservice business owner/managers only, no junior or commis chefs included – the Chefs Decision Awards represent a new benchmark in identifying quality products. Only chefs using a particular product could rate it and a rigorous analytical process was used to determine winners.
"We believe the Awards will be a useful guide for chefs and foodservice professionals in making their product choices for the commercial kitchen," says Cameron Gentle, Director of foodservice market research firm ChefPanel, which organised the awards program.
ChefPanel is an Australian company specialising in foodservice research utilising an opt-in database of over 5,000 Chefs. ChefPanel conducts online surveys, phone surveys, focus groups, taste tests, product placements and diary research. Over the past seven years, Chef Panel has worked across multiple categories for many leading food and beverage manufacturers.
ChefPanel has an opt-in database of over 5000 chefs which it uses to conduct online and phone surveys, focus groups, taste tests, product trials and diary research. It has run similar award programs for consumer products and service quality in Australia, New Zealand and throughout Asia for some years, and the Chefs Decision Awards seemed a natural complement to its other programs.
"The Awards provide a further point of differentiation for foodservice products," Cameron explains, pointing out that foodservice manufacturers see them as a means of adding value to their brands by attracting new customers and building market share.
ChefPanel plans to roll out the Awards to encompass different product categories and to announce a series of category winners four times a year, thereby providing new quality benchmarks for chefs on a regular basis.
"In the foodservice industry the chef is almost always the decision-maker and often the owner-manager of the business," Cameron points out. "So the fact that these Awards are chosen by chefs, for chefs underscores their credibility. Working chefs will know that these award-winning products have been rated by their peers."