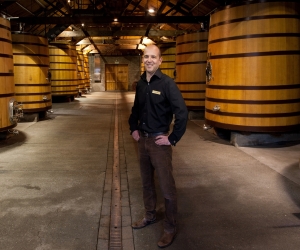 Church Road Winery is celebrating a trophy win after their Church Road Grand Reserve Hawke's Bay Syrah 2013 was awarded the Trophy for Best New World Red Wine at the Japan Wine Challenge 2015. The award-winning 2013 vintage, was chosen as the very best in the 'New World Red Wine' category – one of only 12 trophy winning wines awarded from the 1,400 wines entered across the world.
Church Road Senior Winemaker Chris Scott says he is very proud of the trophy win. "We are delighted to be announced as the Trophy winner of Best New World Red Wine in the 18th Japan Wine Challenge" says Chris, also named New Zealand Winemaker of the Year by Winestate Magazine in 2013.
"The Church Road Grand Reserve Hawke's Bay Syrah 2013 is a product of our fantastic Redstone vineyard in the Bridge Pa Triangle sub region. Neil Watson and the team at Redstone know how to grow great cool climate Syrah and the level of attention to detail in the vineyard is second to none, right down to hand positioning each and every bunch of grapes. This vineyard produces Syrah with fine, supple texture and lifted aromatic qualities we don't see from other sites. Combine this with the experience our great winery team has developed with Syrah in the last 10 years and the outstanding 2013 harvest conditions and it all just came together perfectly."
Church Road Grand Reserve wines are produced only in great vintages. The very best low-cropping vineyard blocks are targeted for selective hand-harvesting to yield wines with the greatest possible flavour, depth and concentration. In the winery these wines are made using small batch, traditional winemaking techniques that emphasise texture, structure and subtle complexity, while still letting the fruit shine through.
The Japan Wine Challenge 2015 recognises absolute quality and is Asia's oldest and most prestigious wine competition. Wines from 28 different countries are judged by a panel of over 30 top wine professionals from Japan and internationally.