Throughout July, Cloudy Bay will be working with 24 top chefs around the country for the fourth international Cloudy Bay Pinot & Duck Tasting Trail, adding a culinary twist to the perfect food and wine match. Cloudy Bay challenged New Zealand's top chefs to mix up their game this duck season by creating dishes made with a fusion of delicious ingredients and flavours matched to Cloudy Bay Pinot Noir. These dishes will be available during July at each restaurant with a glass of Cloudy Bay Pinot Noir for a set price.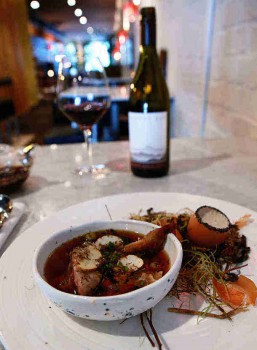 "Duck and Cloudy Bay Pinot Noir offer both elegance and intrigue in a single taste," says Cloudy Bay senior winemaker Tim Heath. "The rich flavours in duck are a great compliment to the aroma of plum, aromatic spice and red florals found in the Cloudy Bay Pinot Noir."
Joining New Zealand, top chefs from around the world including Aspen, Japan, Singapore, Hong Kong, China, Malaysia, Philippines, Sydney, Brisbane and Melbourne will also take part in the Cloudy Bay Pinot & Duck Tasting Trail.
"This year will be our biggest Pinot & Duck Tasting Trail yet. We are excited to have a great selection of New Zealand's top restaurants involved in our global event," says Rai Banbury, Cloudy Bay senior brand manager. As part of the Cloudy Bay Pinot & Duck Tasting Trail, an Instagram competition will be launched to help couples warm up winter. People will be invited to share the Cloudy Bay experience with their date and the best photo taken using the hashtag #duckdatenight and #CloudyBay will give diners the chance to continue their trail at another participating restaurant of their choice*.
The Cloudy Bay Pinot & Duck Tasting Trail begins on 1st July and runs until 31st July. Bookings are essential with each individual restaurant.