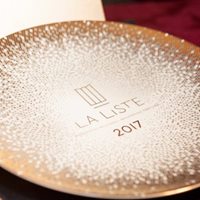 Leading the ledger of eight New Zealand restaurants to make the La Liste top 1000 outstanding restaurants for 2017 is the perennially great Auckland-based, The French Café. Scoring 94 ¼ out of a possible 100, Chef Simon Wright's restaurant leads a talented group of New Zealand hospitality businesses that cut the mustard of innovative and dedicated restaurants.
Second on the list is The Grove with a score of 91 ¼ , then Sidart ( featured in Hospitality Business Dec/Jan) with 90 ¾ and Kazuya, who scored 90. All of the first four restaurants featured in the 2016 list, however, there are some newcomers to the 2017 table. Both in Auckland, Cocoro and Meredith's Restaurant made the grade as did Lyttleton's Roots Restaurant, and Baduzzi on Auckland's North Shore.
La Liste is an algorithim- based aggregator of food guides and reviews, crafting a ranking of the world's best restaurants. Sources from around the world are compiled year round, leading up to a glamourous annual award ceremony in Paris. For more information: www.lalistecom.en.