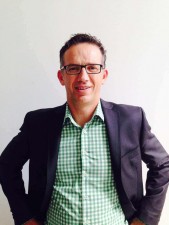 DB Breweries has announced the promotion and appointment of Sean O'Donnell to the role of Marketing Director. Sean moves into the Leadership Team role after two and a half years with DB and Redwood Cidery, most recently as the Head of Cider and Domestic Beer Marketing.
Andy Routley, DB Breweries Managing Director says he's thrilled to welcome Sean to the Leadership Team.  "Sean has excellent marketing experience across a range of sectors and will provide business continuity with his deep knowledge and passion for our industry, brands, market challenges and business drivers. His ongoing contribution at a leadership level will be invaluable."
Amongst many things, Sean led the DB Export team that created the new DB Export brand platform 'Made by Doing' and the highly acclaimed DB Export 'Brewtroleum' campaign. His team were also responsible for launching the recent Old Mout Hard Cider, the first truly male cider innovation in the New Zealand market.
O'Donnell says he is excited to take on a new challenge within the DB business. "We have a truly world class Marketing team here at DB, working on a number of the best brands locally and globally including Heineken, Tiger, Monteith's, DB Export & Tui.  I'm looking forward to building on the great work that's already happening here and continuing to drive our iconic beer and cider brands forward by engaging kiwi adults in new and innovative ways."
Sean replaces Maud Meijboom-van Wel, who continues her career within the Heineken Company as she takes up the role of Marketing Director at Heineken Malaysia's Guinness Anchor Berhard (GAB). His appointment is effective 1 April 2016.