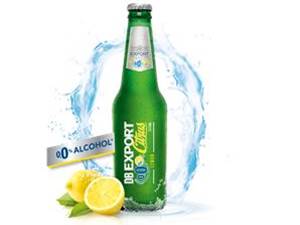 Last month, DB Export launched DB Export Brewtroleum – a clean-burning biofuel made from the yeast leftover after they finish brewing beer. Since then, the nation has rallied behind the initiative of drinking beer to save the planet.
While everyone wants to help Mother Nature, DB Export quickly realised that not everyone could drink full-strength beer so they brewed DB Export 0.0% Citrus – a refreshing lager with 0.0% alcohol.  The new 0.0% alcohol beer gives Kiwis unlimited refreshment – a great tasting alternative to enjoy any time of day without the effects of alcohol. Its 0.0% alcohol content means anyone can now help contribute to the production of Brewtroleum.
DB Export 0.0% Citrus is the only beer of its kind in New Zealand, containing 100% natural lemon juice.  The special cold contact brewing process ensures it keeps a distinctive beer taste, which is made from DB Export's usual high-quality ingredients of malted barley, hops, water and, the all important ingredient of yeast.
DB Head of Domestic Beer Marketing, Sean O'Donnell, said this latest innovation responds to adults' demand for a responsible beer alternative, meeting their needs around moderation, and is another great example of an idea sparked over a few beers.
"We're excited to continue the success of DB Export Brewtroleum with DB Export 0.0% Citrus.  Once again we've taken the lead by creating a beer option that offers unlimited refreshment.  Our brewers have worked extremely hard to create the perfect flavour balance; it is neither a soft-drink taste nor a lager taste, it is a new 0.0% beer taste experience that can be enjoyed anytime."
DB Export 0.0%Citrus is now available in 12 x 330ml glass bottles from Countdown and liquor retailers, RRP $18.99.  For more information visit dbexportbeer.co.nz and follow Facebook.com/dbexport to find events where DB Export 0.0% Citrus will be sampled.
DB Export Brewtroleum may no longer be at the pumps, however with our great partners at Gull we aim to be returning to the pump at some stage again in the near future.