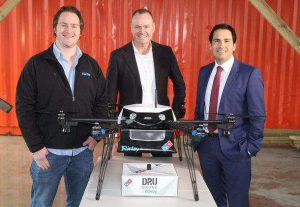 Domino's Pizza Enterprises Limited (Domino's) has joined forces with the global leader in drone deliveries, Flirtey to launch the first commercial drone delivery service in the world.
The two companies exhibited the first stage of their partnership with a demonstration of pizza delivery by drone in Auckland, New Zealand on August 25th 2016. The successful demonstration was also attended by the Civil Aviation Authority and Minister of Transport, Simon Bridges.
The demonstration was conducted under Civil Aviation Rules Part 101 and marks a final step in Flirtey's approval process, following which the partnership will aim to connect people with pizza via CAA-approved trial store-to-door drone deliveries from a selected Domino's New Zealand store with flights to customer homes later this year.
New Zealand was selected as the launch market given its current regulations allow for businesses to embrace unmanned aircraft opportunities, which enable the gradual testing of new and innovative technologies.
Domino's Group CEO and Managing Director, Don Meij said the Company's growth over the past few years had led to a significant increase in the number of deliveries and that Domino's is constantly looking for innovative and futuristic ways to deliver pizzas to customers.
"With the increased number of deliveries we make each year, we were faced with the challenge of ensuring our delivery times continue to decrease and that we strive to offer our customers new and progressive ways of ordering from us.
"Research into different delivery methods led us to Flirtey. Their success within the airborne delivery space has been impressive and it's something we have wanted to offer our customers," Meij said.
The use of drones as a delivery method is designed to work alongside Domino's current delivery fleet and will be fully integrated into online ordering and GPS systems.  "Domino's is all about providing customers with choice and making customer's lives easier," says Meij. "Adding innovation such as drone deliveries means customers can experience cutting-edge technology and the convenience of having their Supreme pizza delivered via air to their door. This is the future.
"We've always said that it doesn't make sense to have a 2-tonne machine delivering a 2-kilogram order. DRU DRONE is the next stage of the Company's expansion into the Artificial Intelligence space and gives us the ability to learn and adopt new technologies in the business."
The reach that a drone offers is far greater than other current options, which are restricted by traffic, roads and sheer distance. Domino's will look to the results of the trial to determine where drones are implemented further.
"What drones allow us to do is to extend that delivery area by removing barriers such as traffic and access, as well as offering a much faster, safer delivery option, which means we can deliver further afield than we currently do to our rural customers while reaching our urban customers in a much more efficient time."
The trial flights are set to commence later this year following the beginning of daylight savings in New Zealand. "We are working with Flirtey to ensure quality is a priority during the trials and are confident that customers will be excited by a drone delivering their pizzas from the store to their door."
Flirtey CEO Matt Sweeny said, "launching the first commercial drone delivery service in the world is a landmark achievement for Flirtey and Domino's, heralding a new frontier of on-demand delivery for customers across New Zealand and around the globe. New Zealand has the most forward-thinking aviation regulations in the world, and with our new partnership with the leader in pizza delivery worldwide, Domino's, we are uniquely positioned to bring the same revolutionary drone delivery service to customers globally.
"We are getting closer to the time where you can push a button on your smartphone and have Domino's delivered by drone to your home."